Cumbria ruled out of current nuclear waste dump plans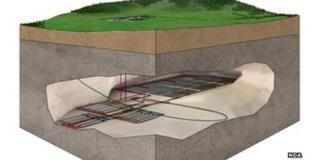 West Cumbria has been ruled out of current plans for an underground nuclear waste storage facility, energy minister Baroness Verma has said.
Cumbria had volunteered to consider housing the waste site, but the plan was vetoed by the county council.
Copeland Council had wanted to press on with the plans for the site, which would not be built until at least 2025.
However, Baroness Verma confirmed the county was no longer an option and an alternative UK site was being sought.
Britain needs to find a site for the long-term underground disposal of high-level radioactive waste as some if it stays dangerous for 100,000 years.
Currently, it is stored above ground on sites around the UK, mostly at Sellafield.
'Learn lessons'
On Tuesday, Baroness Verma held a meeting with Elaine Woodburn, leader of Copeland Council, Cumbrian MPs Jamie Reed and Sir Tony Cunningham, and Allerdale Council leader Alan Smith.
She said: "We were clear that because of the county council's decision not to proceed to the next stage, the current site selection process has ended in west Cumbria.
"However, it is right that we remain engaged with local leaders on these issues, partly to learn the lessons of managing radioactive waste.
"We are keen for communities elsewhere in the country to express an interest in joining it."
Any underground storage facility would be up to four times the size of Sellafield - between 6 sq km and 23 sq km (2.5 and 9 sq miles).
Councillor Woodburn said she accepted talks about Cumbria were at an end, but that nuclear waste disposal in the county was at "limbo".
"A long-term solution needs to be found", Ms Woodburn said.