Early intervention needed to help fragile states says Labour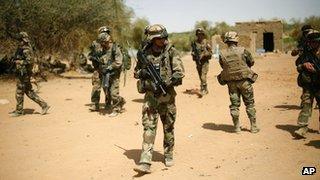 Labour is to say it backs the principle of early Western intervention in states under threat from extremism but will warn the government is failing to learn the lessons of Iraq and Afghanistan.
UK involvement beyond its borders is not ideological but an "essential" response to an interconnected world, Jim Murphy will argue in a speech.
But he will criticise the UK's "rushed" response to the insurgency in Mali.
Preventative action is needed to nip problems in the bud, he will add.
Speaking in London, the shadow defence secretary will set out the party's position on foreign intervention in the most detailed terms since Labour left government in 2010 while addressing the "painful and controversial" legacies of the UK's involvement in Iraq and Afghanistan.
'Mission creep'
The UK can never allow itself to slip into "isolationist reticence", he will argue, insisting the international community will always remained "haunted" by its failure to intervene to stop the genocide in Rwanda and to act earlier in Bosnia in the 1990s.
"We cannot hide from the fact that events and threats overseas may necessitate the use of military force," he will say. "A belief that we have responsibility beyond our borders is not, as some would have it, ideological but an essential response to the world in which we live."
While backing the original decision to go into Afghanistan and Iraq, Mr Murphy will say both missions were undermined by a lack of understanding of religious, ethnic and cultural forces, insufficient prioritisation given to army training and "unrepresentative" political strategies from the outset.
And he will suggest the coalition government has failed to learn the lessons of the past decade, describing the conflict in Mali and the growing terrorist threat in north Africa as a "failure in prevention and foresight".
While it was "necessary to act" to tackle Islamist militants once they had taken control of swathes of the country, he says the emergence of a "patchwork of loose alliances" in the region should have been identified earlier and action taken to nullify them.
Labour has warned of the risks of "mission creep" in Mali - where the UK is providing logistical assistance to French forces and 350 British troops were sent earlier this month to train Malian forces.
'Deceptive stability'
Mr Murphy will criticise David Cameron's assertion in the wake of the Algerian hostage crisis that the West faces a "generational struggle" against Islamist terrorism, describing his language as over-simplistic and suggestive of a "natural continuation of the 9/11 world".
In the future, he will suggest, the UK and its allies must develop a "new model of preventative intervention" focused on identifying threats before they escalate and require a major military deployment.
This will involve giving wide-ranging assistance, potentially over a long period of time, to fragile states focused on security training and combat prevention.
To make a success of this, British forces must be "adaptable", more "culturally aware" and better equipped to speak local languages, while future intelligence and equipment needs should be geared around these core functions.
"The principle would be to invest early, making substantial intervention less likely and in the event of escalation success more likely as well as improving post-conflict planning," he will argue.
"The core component of preventative intervention would be building at-risk nations' abilities to defend themselves against militancy. Without passing on the capabilities for internal security management, we risk perpetuating the deceptive stability which was blow open in Mali."
Foreign Secretary William Hague has rejected suggestions the international community was slow to act on Mali and said the West must learn the lessons of Somalia in terms of how it balanced its military, political and humanitarian role.
On a visit to North Africa earlier this month, Mr Cameron promised support to Algeria and Libya to boost security and tackle terrorist threats but warned against "looking at this region of the world and thinking that the answer is purely a military one".