Romania and Bulgaria immigration forecasts could be kept private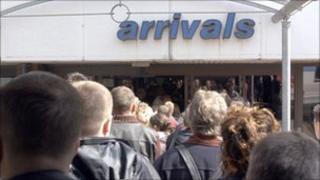 The Department for Communities and Local Government says it holds information about potential immigration from Romania and Bulgaria, but might refuse to release it.
The Home Office has repeatedly said it has not produced forecasts.
Last month Communities Secretary Eric Pickles told the BBC's Sunday Politics he had seen a figure estimating how many Romanians and Bulgarians would come to the UK when transitional immigration controls were lifted next year, but said he did not have confidence in them.
Labour and the New Statesman magazine then submitted Freedom of Information requests.
Labour asked for the assessment of potential immigration from Romania and Bulgaria and any emails, letters, minutes or notes related to it.
A DCLG official replied confirming that the department held the information, but said it might be kept private.
Freedom of Information rules allow some requests for information that could inhibit the provision of frank advice to ministers to be refused.
A Whitehall source said figures had been presented to the Home Affairs cabinet committee when the issue was discussed there.
The Foreign Office has commissioned a report on the impact of the immigration from the National Institute of Economic and Social Research.
The BBC understands the draft report has been available in Whitehall for at least a month. The government has said it intends to publish the report although it has not said when.
The report is understood not to contain a forecast of immigration levels.
Transitional controls in place since 2007 limit the right of Bulgarians and Romanians to take certain types of jobs in the UK and in other EU nations, but they will come to an end at the start of 2014.
In 2004, the-then Labour government allowed free migration to the UK for workers from EU accession states including Poland, Hungary and the Czech Republic.
But its estimates that only about 13,000 people a year would come to the country were soon proved wrong, with a peak net migration figure, from the EU and elsewhere, of 252,000 in 2010.
Some countries imposed transitional controls to slow the speed of movement.
The prime minister's spokesman said the evidence from 2004 highlights how difficult it was to accurately estimate migration levels.