'Bedroom tax' plans are 'perverse', says Labour's Stephen Timms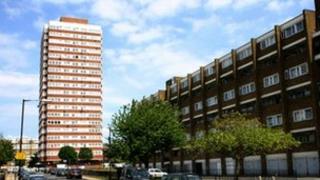 The government's proposed change to housing benefit rules, dubbed the "bedroom tax", is "perverse", shadow minister Stephen Timms has said.
On BBC Radio 4, Mr Timms warned that "lots of people will face hardship when they should be getting support".
The changes are designed to encourage people with spare rooms to downsize, but the Labour MP said there was a shortage of smaller accommodation.
Conservative chairman Grant Shapps said this argument was "absolute nonsense".
Ministers predict that the changes will help cut the £23bn annual bill for housing benefit, free up more living space for overcrowded families, and encourage people to get jobs.
The new rules will affect less well-off tenants who are paid housing benefit to help with rent on council housing or housing association properties - but not those renting in the private sector.
Typically claimants receive between £50 and £100 a week. From April 2013 families deemed to have too much living space by their local authorities will receive a reduced payment.
'Opposite of tax'
The clash occurred on BBC Radio 4's the World this Weekend programme, where Mr Timms argued that the change had "not been thought out properly".
"Take the example of Hull, which as Grant Shapps knows is not untypical," the shadow welfare minister said.
"4,700 tenants are going to be affected by this penalty, but they've only got 73 one- or two-bed properties available. It is impossible for people to move within the social sector to smaller accommodation.
"We've argued for the last two years that it would be fine to apply the penalty where people have refused to take smaller accommodation, but to penalise people when there's nowhere smaller to move to is perverse."
But Mr Shapps said: "Labour have very cleverly deemed this to be a tax; of course it's exactly the opposite to a tax.
"It's a spare-rooms subsidy, that's being paid through the benefits system, on a million empty bedrooms in this country, which makes no sense."
He continued: "We're not using the housing we have in this country in a proper way."
The Conservative Party chairman concluded: "What we can't continue to do, and we can't afford to do, is pay for a million empty rooms whilst we've got a waiting list that doubled under the previous administration and with so many people in desperate need of a house at all."
Housing charities are warning that the result of the changes will be higher levels of rent arrears, and greater homelessness.