Political impact of lower than expected 4G price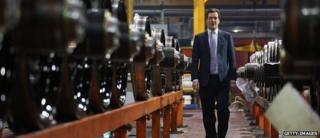 Telecoms regulator Ofcom has raised £2.34bn from its 4G mobile spectrum auction. That is £1bn less than expected - a shortfall which could have political repercussions.
When the Chancellor George Osborne came to the Commons to deliver his Autumn Statement in December he had a bad hand to play.
Economic growth forecasts had to be revised down, the "age of austerity" would have to be extended and a key target on reducing debt had been missed.
But Mr Osborne had one trump card.
Against expectations, the deficit was predicted to come down. The Treasury would need to borrow £119.9bn in 2012-13 to make ends meet, compared with £121.4bn the year before.
The shadow chancellor, Ed Balls, was wrong-footed and, politically at least, Mr Osborne was seen to have won the day.
But as the public debate on the figures began, economists began asking questions about the 4G spectrum auction. They pointed out that if the chancellor had not factored in £3.5bn of receipts from the auction, or had instead used the regulator's reserve price of £1.3bn on the sale, borrowing would have been going up.
Mr Osborne dismissed accusations of trickery as a "red herring". He said he had scored the receipts in exactly the way the Office for Budget Responsibility had wanted. He had followed exactly the practice of the Labour government when it auctioned the 3G spectrum in 2000.
Whether or not it was a gamble to include 4G receipts in the Autumn Statement, the lower-than-expected windfall makes it a fair bet that the deficit will rise. The Institute for Fiscal Studies says there is "more than 50:50 chance that borrowing this year will be higher than it was in 2011-12".
A rising deficit would mean Mr Osborne coming to the Commons to deliver next month's Budget with an even worse hand than in December.
The one billion pound 4G shortfall might create only a small hole in the government's spending plans, but the political stakes could hardly be higher.