Eastleigh by-election battle hots up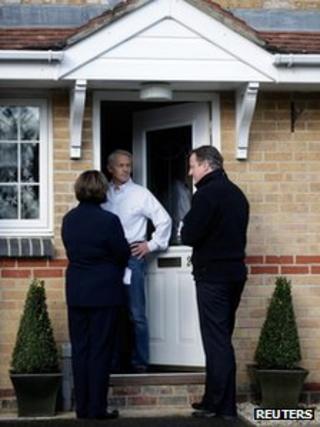 Have a free biscuit. Help put leaflets into envelopes. Stuff the Tories.
That's what's on offer at the Liberal Democrats campaign headquarters in a corner of a quiet industrial estate near Eastleigh town centre.
Volunteers at the "war room" operation have scrawled on two blank posters on the walls the reason they are taking part. "To stuff Tories" wrote one. "To stop Tories wrecking education" wrote another.
The coalition's on a break in Hampshire. A temporary divorce, to permit the partners to turn on each other in the most significant by-election for a long time.
The Lib Dems are well established in Eastleigh. They run the council. They've been dropping those leaflets through front doors since 1994, when they first won here.
But this is not a fight they wanted. Chris Huhne's implosion has been very traumatic for the local party.
Some openly refuse to accept his guilt. Others are very angry. One Lib Dem peer on a visit told me he was very unhappy with Huhne for lying.
Their candidate Mike Thornton hopes his reputation as a local politician and what he described as "the party's local reputation" will be enough to retain the seat and send him to Parliament.
Controversy
The Conservatives are deploying their big guns to try to stop that happening. The mayor of London brought with him a sizable following. Cameras, photographers, locals with lapdogs. The Tories are convinced that Boris Johnson is a vote winner.
But parts of Eastleigh were a tough call for him. As one front door opened a startled voter emerged and point blank refused to shake hands with the man often tipped as a successor to David Cameron.
The rules of coalition were non-existent as he went door-to-door. Nick Clegg supporters were referred to as "sodding liberals voters" at one point.
The Tory candidate Maria Hutchings would dearly love to take this seat. She says she's a "straight answer" politician.
Her views on reducing abortion term limits, life outside the EU and whether local state schools are good enough for one of her four children have landed her in some controversy.
The focus of her campaign is the big local issue; housing. More specifically the greenfield sites earmarked for development.
This part of the country, like many suburban areas, needs new homes - thousands of them.
The Lib Dem run council has approved a highly contentious plan to pave over every fairway, bunker and green of a local golf course to build them.
But this is not just about local politics. This is a contest which will send ripples beyond the M3.
If the Lib Dems lose what is considered a stronghold, where next? Some members would feel very gloomy about their prospects over the next two years.
UKIP challenge
For David Cameron, Eastleigh offers a glimpse of life beyond the coalition. If he wants to be a purely Conservative prime minister he's got to show he can win in places like this.
This is not a simple two horse race though. The UK Independence Party (UKIP) is on the march once more.
Buoyed by strong showings in the Corby and Rotherham by-elections, they believe they are edging closer to that major breakthrough - a seat at Westminster.
The prime minister is doing his best to try to prevent that, with tougher talk on Europe and the offer of a referendum. Ongoing efforts to limit the impact of further immigration from the EU are also partly aimed at seeing off the UKIP threat.
But it has emerged as the protest party of the moment.
Unofficially party campaigners say they encourage it. Officially UKIP's candidate Diane James says she doesn't see it. She says her party is the only one that's been "honest and consistent" about the problems the EU had caused for millions of Britons.
Eastleigh is a town with a proud railway heritage. A statue close to Labour campaign office pays tribute to the lantern carrying workmen who laid the track and serviced the locomotives.
Resistance
But Ed Miliband is starting from a low base in this election. Something a visiting Labour MP was keen to point out.
One campaign worker I saw hand out leaflets to passing shoppers was told by one reluctant recipient that they neither voted nor had a bank account.
That's the level of resistance that Labour's leader may have come to expect as he tries to broaden his parties appeal across the south, beyond its traditional base.
Part of Labour's answer is John O'Farrell. Their candidate is a non-politician. A writer turned comedian, he beat several others with far stronger local links to become the face of "One Nation Labour" in Eastleigh.
His wasn't the best start. At his campaign launch at a local college he was forced to admit he didn't know Labour's policy on university tuition fees.
The claim that he's a "carpetbagger", down from London, has been hard to fend off.
Every party leader has visited Eastleigh. Some will come several times. That's how serious this contest is for them. Nick Clegg popped in en route back from a trip to Africa. They are throwing everything at it.