Sex claims - who knew what?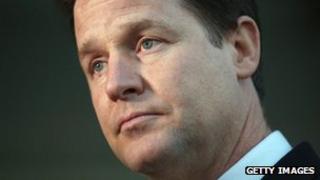 Compare and contrast the following two statements made this morning about allegations of sexual harassment by the former chief executive of the Liberal Democrats, Lord Rennard (which he absolutely denies):
"A show trial of innuendo, half truths and slurs... I have absolutely nothing to hide."
"We screwed up as a party."
The first was made by the leader of the Lib Dems, Nick Clegg. The second came moments later from the party's president, and some say leader in waiting, Tim Farron.
How and whether they can be reconciled is the key to where this story goes next.
'Indirect and non-specific'
Nick Clegg has gone from appearing to say he knew nothing about the allegations made against Chris Rennard, the man who was the top official and key strategist of his party, to admitting he did know something whilst other party officials knew a great deal.
This shift was made necessary because it's now clear that allegations were made to the party's chief whip and equalities spokesperson five years ago.
In a carefully scripted statement last night, Nick Clegg said that he had, after all, been aware of "indirect and non-specific concerns". Then he told the BBC this morning that "no very specific allegations" had been made before last week. He then added that they were "certainly not put to me" and that "no woman spoke out in detail".
All those words in italics represent an acknowledgement that it would appear that women had, indeed, complained - albeit not in writing or via formal procedures - about the way they had been treated by a man who was either their boss or could influence their future political career.
When the Lib Dem leader spoke angrily last night about what he called "a show trial of innuendo, half truths and slurs" I am told that he was reacting to the suggestion that he knew about serious allegations of abuse and covered them up. He feels particularly hurt by this suggestion as one of the women involved worked as his adviser for years but told Channel 4 and not him about what had happened to her.
Quiet departure
Mr Clegg's friends argue that he did what he could with the information he had at the time i.e. he asked his then chief of staff Danny Alexander to confront Lord Rennard and give him a warning. That, they hint, is the real reason Lord Rennard retired in 2009 rather than the officially stated "health grounds."
The question Nick Clegg has yet to answer is - why didn't he ask his chief of staff to ask around senior party officials if they'd heard any allegations against Lord Rennard or, indeed, order an inquiry into the "concerns"?
The answer, I suspect, is that none of the women involved wanted to pursue a complaint alone. They may have feared for their future or wanted to protect the party. They may have been satisfied with reassurances that Lord Rennard had been spoken to about what they regarded as his unacceptable behaviour and was going to resign.
As a new leader, Nick Clegg may have calculated that the quiet departure of a popular and influential party figure was rather more appealing than a distracting and divisive inquiry into his alleged wrongdoing which would divide the Lib Dems and be exploited ruthlessly by the party's enemies (as it is now).
Nick Clegg complained this morning that "people want instant judgements with hindsight". What he perhaps didn't realise is that Tim Farron had just given one.
PS. The first of my new BBC Radio 4 series Battle for the Airwaves airs this lunchtime at 13:45 (GMT) and can be heard at anytime here - The series runs every weekday until next Wednesday.