Andrew Mitchell refuses to rule out EU commissioner role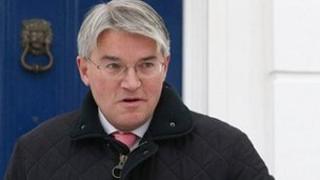 Andrew Mitchell has refused to deny David Cameron has offered him a job as Britain's next EU commissioner.
Mr Mitchell resigned as chief whip over claims he swore at police officers during a confrontation in Downing St.
Since then, CCTV pictures have emerged which have cast doubt on the police's version of events.
Asked about reports of the job offer, Mr Mitchell confirmed he had met the PM, adding that there was an "important job to be done in Europe".
Last year Mr Mitchell was forced to resign from cabinet over claims he swore at police officers and called them "plebs" after they refused to allow him to cycle through the main gates of Downing Street.
'Career planning'
But CCTV footage has since cast doubt on the original police accounts of the row, which has come to be known as "plebgate".
While Mr Mitchell admits swearing during the incident, he denies directly swearing at the officer and insists he did not lose his temper or call him a "pleb".
The Mail on Sunday reported that Mr Mitchell could be in line for a political comeback as Britain's next EU commissioner when Baroness Ashton finishes her term as foreign affairs envoy next year.
The newspaper says David Cameron and Andrew Mitchell had lunch at Chequers with their two wives, after which Mr Cameron made the job offer.
Interviewed on the BBC's Sunday Politics, the former chief whip said he was not going to take part in "career planning" on TV, but confirmed that he had met Mr Cameron.
"I do see the prime minister from time to time," he said.
He added: "There is a very important job to be done in Europe to make sure that Europe changes in the interests of everyone in Europe but also in the interests of Britain."
If Mr Mitchell does become Britain's next EU commissioner, he will not the be the first former cabinet minister to take up the role.
Following his second cabinet resignation, Peter Mandelson became Europe's trade commissioner, before returning to British politics in 2008.
Three police officers have been arrested over their role in the "plebgate" affair. A 23-year-old man has also been arrested.
All four have been bailed until later in March.