William Hague in Mali for talks on security talks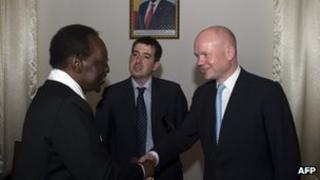 British Foreign Secretary William Hague is in Mali for talks with the country's leaders about the security situation and counter-terrorism co-operation.
The UK is providing logistical support to French troops who were asked into the west African nation in January to help counter an Islamist insurgency.
It is also supplying up to 240 troops to train soldiers in Mali and neighbouring countries in the region.
Mr Hague said the UK was committed to "restoring security" in Mali.
The foreign secretary has held meetings with the country's acting president Dioncounda Traore, its prime minister and foreign minister in the capital Bamako to discuss security and political developments.
'Strong commitment'
Troops from France and a number of African countries have driven Islamist groups out of the main cities in the north of the country following a major offensive beginning in January.
Although it has not supplied combat troops, the British government has made available two aircraft to assist the operation, which it says is vital for stabilising the country and ensuring it does not become a safe haven for terrorists groups linked to al-Qaeda.
On his visit, the first by a British foreign secretary to Mali, Mr Hague also met the commander of the AFISMA international force as well as the deputy commander of the EU mission training Malian soldiers and British troops serving under him.
Mr Hague said restoring security and democratic rule to Mali after last year's military coup was important for stability in the wider region.
"Mali is at the heart of a range of complex political, security and development challenges that have the potential to affect the wider region and it is vital that we work together to tackle these challenges," he said.
"The UK stands with the people of Mali as they seek to secure their country, re-build their livelihoods and resolve long-standing grievances."
The visit comes amid reports that the former al-Qaeda leader said to have ordered January's attack on an Algerian gas plant - where at least 37 hostages were killed - has been killed by Chadian forces in Mali.
Mokhtar Belmokhtar's death was announced on Chadian state television but has not been confirmed by other sources.