Secret courts will trouble lawyers, says UK's top judge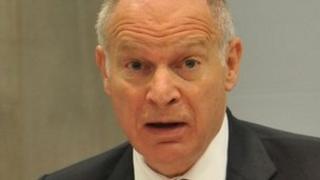 The UK's most senior judge has warned that the legal profession will be "troubled" by aspects of plans to allow courts to examine secret intelligence in private.
MPs backed the plans, which apply to civil hearings, on Monday.
But Lord Neuberger told BBC Radio 4's Law In Action cases might occur where "one party doesn't know what the other party is putting before the judge".
Any lawyer "worth his or her salt" would have concerns, he added.
Ministers argue that millions of pounds are wasted settling civil claims which the government is prevented from challenging successfully, because that would involve revealing secret intelligence in open court.
In 2011, 16 terror suspects, including former Guantanamo Bay detainee Binyam Mohamed, received a multimillion-pound payout after they claimed they had been mistreated by US and British security and intelligence officials.
Amendments
The Justice and Security Bill would create a mechanism allowing court evidence to be heard in secret where there is a need to keep information from the public on grounds of national security.
The government has introduced safeguards to the legislation, currently being scrutinised by Parliament, ensuring that judges and not ministers decide when so-called closed material proceedings are used.
During Monday's House of Commons debate, some MPs argued that secret courts should be used only as a last resort when national security outweighs the public interest of having open justice.
Some coalition MPs rebelled, but some former Labour ministers backed the bill, which passed by 71 votes.
Lord Neuberger, who is president of the Supreme Court, told Law in Action's Joshua Rozenberg that Parliament had "power" to introduce laws.
But he added: "Anybody interested in justice and democracy will be very troubled by any legislation which involves having hearings which are closed in the sense of not open to the public because the public should see what's going on, and possibly even more concerned about cases where one party cannot see the evidence which the other party is showing to the judge.
"So one party loses the cases on evidence which the other party has given to the judge which the judge has seen but the one party who loses the case hasn't seen."
He also said: "No judge, no lawyer worth his or her salt will be anything other than troubled about litigation where one party doesn't know what evidence the other party is putting before the judge and doesn't know what evidence the judge is deciding the case on."
After the Commons vote, minister without portfolio Ken Clarke, who is overseeing the bill's progress through Parliament, said its measures were "common sense".
The government suffered a series of defeats on the proposals in the House of Lords in November and is likely to encounter continued opposition when the legislation returns to the Upper House in the coming weeks.
Law In Action is broadcast on BBC Radio 4 at 16:00 GMT on Tuesday, 5 March.