Samantha Cameron bakes for Red Nose Day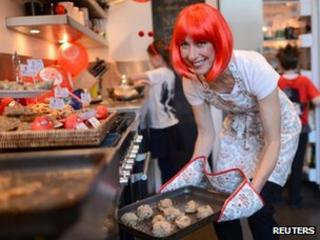 Her husband, in his job as leader of the first coalition government in several decades, spends his life avoiding crumbles and splits.
But Samantha Cameron is braving these and other potential disasters as she gets baking for Comic Relief.
The prime minister's wife has prepared trays of flapjacks, cookies and cupcakes in the Downing Street kitchen.
In the spirit of of the fundraising event she posed for pictures wearing a red Comic Relief wig.
Red Nose Day, which takes place on Friday 15 March, aims to raise money for projects in the UK and Africa.
People around the country are being encouraged to create cakes, with Mary Berry of BBC Two's The Great British Bake-Off providing recipes and tips for holding sales.
Mrs Cameron, who is providing her wares for staff at Number 10, said: "Baking is such a brilliant and easy way to raise money for Red Nose Day. I know the children are really looking forward to selling our cakes around the offices in Downing Street.
"I hope lots of people all over the country are also baking, or finding other fun ways to support Comic Relief."
A special baking fundraising kit, with recipe, bunting and price labels, is available on the Red Nose Day website.