Minister casts doubt on PM's housing benefit claim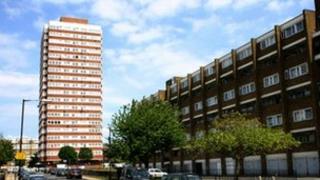 A senior Conservative has cast doubt on claims by David Cameron that severely disabled children are exempt from what critics have dubbed the "bedroom tax".
The prime minister told MPs "anyone who needs help around the clock" would not be affected by curbs on benefits for underoccupied rooms in social housing.
Critics have said this is incorrect.
Ex-housing minister Grant Shapps said discretionary payments were available in certain circumstances, but families with disabled children were not exempt.
From next month, families deemed to have too much living space by their local authorities will receive a reduced payment towards their rent.
Ministers say those in social housing should not get support which is not available to those in the private sector and the housing benefit bill must be cut.
Mr Cameron and Labour leader Ed Miliband clashed over the issue at Prime Minister's Questions on Wednesday, with the prime minister defending the decision to limit what he described as the "spare room subsidy", but what the opposition have characterised as a tax on the vulnerable.
'Discretionary'
Mr Miliband said an impact assessment suggested 420,000 disabled people faced losing £700 a year as a result of the changes - a total of £306m - while the hardship fund covering those affected had an allocation of just £25m for disabled people.
In response, Mr Cameron said "anyone with severely disabled children is exempt from the spare room subsidy".
"Pensioners are exempt, people with disabled children are exempt, anyone who needs help round the clock is also exempt," he told MPs.
Speaking to You and Yours on BBC Radio Four, Mr Shapps, who is now minister without portfolio and co-chair of the Conservative Party, was asked if Mr Cameron had been wrong to say disabled children were exempt.
"It's discretionary." he said. "Where people have special cases there is a housing discretionary fund. A local authority can look at a case. It's a discretionary payment."
The government, he added, would keep a very close eye on how the fund worked but it was important that cases were looked at on an individual basis.