Liam Fox calls for radical change in economic strategy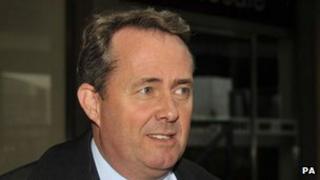 A senior Conservative is to call on the government to freeze public spending for five years and spend the money saved on cutting both taxes and the deficit.
The former defence secretary Liam Fox will use a speech this morning to argue for an economic policy which he will argue would change the "terms of trade in the political debate".
With the Budget just over a week away, Fox becomes the latest senior coalition figure to call on the government to radically change its economic strategy.
A freeze of all public spending - as against the current freeze for Whitehall departmental budgets - would cut spending in real terms by 2.5 per cent a year as against the current plan for a one per cent annual cut.
This would, Fox calculates, save a cumulative total of £345bn which could be used to cut taxes - starting with the temporary abolition of Capital Gains Tax - at the same time as cutting the deficit.
Fox will also call for an end to the ring-fencing of budgets for the NHS, schools and international development, and the end of universal benefits such as the pensioners' winter fuel allowance.
So, a leading representative of the Tory right is matching one part of the call made last week by the Liberal Democrat Business Secretary Vince Cable to think the previously unthinkable on public spending.
There is no prospect of the chancellor adopting this policy in the Budget, but this speech is part of the battle being waged increasingly in public about the pitch the Conservatives should make at the next election if they are to avoid defeat.