Better deal for mobile home residents?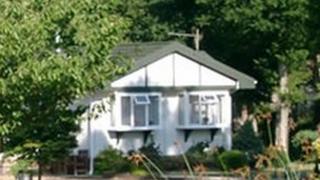 The government is promising a law to protect people living in mobile homes from abuse by site owners, but what will it mean?
Mobile homes look like bungalows and once in place rarely leave the site.
If you buy one, you own the home - but not the land it sits on.
That belongs to the site owner and you have to pay a pitch fee and comply with rules and regulations, which include getting approval for the buyer if you sell the home on.
'Ground-breaking'
Rogue owners are buying up mobile home sites and trying to put off potential buyers so they can themselves purchase the homes at knock-down prices and replace them with new ones.
This has led to widespread anger and a long-fought campaign for change in the law.
The government has now announced that it will take away site owners' right to approve the buyers of mobile homes, often called park homes.
Sonia McColl from the Park Home Owners Justice Campaign, said: "I am absolutely over the moon. It has taken 36 months and has been a long and hard road, but we have achieved what we set out to do.
"I think this will be a ground-breaking change, which should stop unscrupulous site owners from blocking the sales of homes and effectively stealing residents' equity."
Currently, if old homes are moved off the site, owners can replace them with new homes for around £70,000 and then sell them on for around £150,000.
That is a much bigger profit than the 10% they make on the sale of an existing home.
The mobile homes are often marketed towards retirees with an age restriction on who can live there. The elderly owners can be vulnerable to harassment and intimidation. And a criminal element has moved into parts of the industry.
In one extreme case elderly residents were blackmailed into selling their homes for a pound after a series of arson attacks on the site.
'Horrendous'
And last month the company Leisure Parks Real Estate Ltd, run by James Crickmore and Maurice Sines, was ordered to pay over £300,000 in fines and compensation for interfering in the attempts of home owners to sell their homes.
Leisure Parks Real Estate Ltd pleaded guilty to 11 charges of intimidating residents and blocking sales on a mobile home park in the Isle of Wight. The prosecution was brought by Isle of Wight council.
Mr Sines previously blocked sales on a site in Blewbury in Oxfordshire. Thirty people sold their homes to Mr Sines. One valued at £50,000 was sold to him for £10,000. They were then all demolished and replaced with new ones. The residents had to take their case to a county court to win compensation.
Sheila Austin, who lived on the site, said: "He blocked sales continually by threatening the people who wanted to buy the homes, saying homes would be dragged around the park and broken up in the process, threatening and shouting abuse at people. He would say he would torch your home. It was absolutely horrendous".
But some mobile home residents believe the proposed law will not do enough to drive out the rogues.
Sheila Austin, now general secretary of the National Park Home Owners Congress, wanted it to include a test for site owners to ensure they were a "fit and proper person".
This would have excluded anyone with criminal convictions. She said: "There's nothing to stop people like Mr Sines and Mr Crickmore and the like from going and buying more parks and making more people's lives a misery.
"I can't see why this hasn't been introduced now because it could wipe out the rogues in one fair swoop."
'Information'
A Department for Communities and Local Government spokesman said: "We are confident that measures contained in the bill will result in an improvement in standards of management for mobile home sites and clamp down on rogue practices. However, the bill contains provisions for the introduction of a 'fit and proper' test should this prove necessary."
The new law would give local authorities power to give greater fines and allow them to charge site owners a licence fee for the first time.
But Sheila Austin said it would did not confer any duties to take action against site owners. This would remain at councils' discretion.
The body representing site owners, the British Holiday and Home Parks Association, said it welcomed the bill as it wished the rogue element to be driven from the industry.
But the association is concerned that sellers might ignore age restrictions so younger people might end up buying on a retirement park.
Director general Ros Pritchard said: "Regulations are to be introduced under the bill to set out the procedures and information requirements for private sales.
"We hope that these will ensure that, for example, a young family has the information they need so that they do not mistakenly purchase a park home on a retirement park."