More joined-up thinking needed in Whitehall, urges watchdog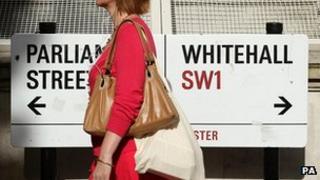 The government must raise its game if it is to deliver potential savings and service improvements by integrating the way Whitehall works, a watchdog says.
The National Audit Office said the amount of cross-government working "varied considerably" and it was not always clear who was taking the lead.
But it said pooled community budget pilots in four areas were promising.
Labour MP Margaret Hodge said the government was too often "fumbling in the dark" due to lack of information.
In a new report, the public spending watchdog said there was potential to make public services more efficient and responsive to people's needs if the government operated in a more integrated way.
'Taking the lead'
But it warned that information about areas ripe for cross-departmental co-operation was limited, hindering the business case for taking action, while projects often stalled due to implementation problems or because the challenges involved were under-estimated.
It called for greater sharing of data between Whitehall and town halls if the promise of community budgets - pilot projects for shared services and joined-up delivery across council boundaries in West Cheshire, Essex, Greater Manchester and West London - was to be realised.
"Given the imperative for further cost reductions in government, it is important that departments make the most of the potential of integrating front-line services and back-office functions," said the watchdog's head, Amyas Morse.
"But across government, the amount of collaboration varies considerably and it is not clear who is taking the lead in identifying the most promising opportunities.
"We encourage government to continue to work closely with local areas to understand fully what works and what doesn't."
Ms Hodge, chair of the Public Accounts Committee, said the government's track record on integration had been "poor" and it needed to learn from the success of the 2012 London Olympics and how its organisers had co-ordinated input from a wide range of organisations.
"The government does not have the evidence base that allows it to identify integration opportunities or properly assess the costs and benefits of integration," she said. "It is, in effect, fumbling in the dark."
But community budget flag-bearers were "learning from past mistakes" and the possible savings identified were "encouraging".
"The Department for Communities and Local Government and the local areas involved now need to commit to delivering these interventions," she added.
"They need to keep their eye on the ball to make sure this potential is realised."