Nick Clegg praises Cameron's 'skilful' EU negotiating tactics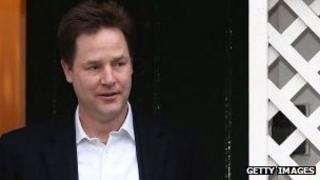 Deputy Prime Minister Nick Clegg has paid tribute to David Cameron for negotiating "very skilfully" in favour of a cut to the EU budget.
By agreeing with EU leaders in February to a cut of 3.3%, the PM had delivered "what many people had told us was not possible", the Lib Dem leader said.
Mr Clegg himself had said that there was "absolutely no prospect" of achieving a real-terms cut.
He also criticised MEPs, including Lib Dems, who are opposed to the deal.
The European Parliament demanded further negotiations on the EU's multi-year budget, with MEPs voting earlier this week that they would only accept the deal on certain conditions.
"I think they're wrong," Mr Clegg said on his weekly LBC radio appearance.
'Blond mop'
British Liberal Democrat MEPs were among those to reject the deal.
But Mr Clegg said: "We will be holding very firm.
"Of course there are details which we have to enter into negotiations with the European parliament, and they have a say in all of this, but the fundamental principle that you can't, at a time when national governments are cutting back in all other areas of life, to make somehow an exception for the European Union budget, that's really not acceptable to me."
He said it was "totally unsurprising" that MEPs had taken this position.
"I want to pay tribute to the prime minister for the hand I think he played very skilfully at the summit to deliver what many people had told us was not possible, which was a squeeze in turn on the EU budget," he added.
"There might be differences of opinion between the prime minister and myself on Europe, on other issues, but actually on this budget issue, we've worked in lock-step."
Amid speculation about future contenders for the leadership of the Conservative Party, the deputy prime minister was also asked whether he would rather have a drink with Theresa May or Boris Johnson.
In reply, Mr Clegg alluded to a remark from the London Mayor during the Eastleigh by-election campaign. Mr Johnson had said the Lib Dem leader was a "great big vacillating jelly of indecision" on immigration policy.
"After some of the things that Boris Johnson has said about me recently, I'd probably pour the drink over his blond mop," Mr Clegg told listeners.
The Lib Dems held the Eastleigh seat, despite a large swing to UKIP.
"Guess what?" Mr Clegg said. "The jelly's won."