MPs call for 'vital' quango to be reprieved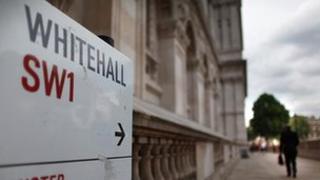 MPs have called for a quango that oversees the system by which members of the public can challenge government decisions, to be saved from closure.
The Ministry of Justice announced plans to axe the Administrative Justice and Tribunals Council in December, saying it would take over many of its duties.
Since 2007, the body has advised on challenges to tribunals and ombudsmen.
The Commons Justice Committee said independent oversight was needed and questioned the level of likely savings.
The government is abolishing a swathe of quangos and merging others under legislation passed in 2011.
The administrative justice system deals with about a million cases a year, on issues such as tax and benefit changes and awards of school places.
'Closer to ministers'
The committee says the council plays a "vital role" in underpinning this system and enabling people to question decisions made by government departments, councils and other public bodies and to seek to overturn them in a way which is fair and efficient.
While agreeing that part of its role could be taken on by the department, the MPs say they have "strong reservations" about the capacity of ministers to perform its core duties.
They also take issue with the government's estimate of how much scrapping the quango will save, saying it costs £700,000 to run and the "work will have to continue in some form".
Rather than scrapping the body, the committee wants its remit to be changed to focus on increasing public access to the system and promoting better decision-making in an effort reduce the number of people seeking redress.
Sir Alan Beith, the Lib Dem MP who chairs the committee, said the government's policy on quangos was rightly based around increasing the accountability of public functions to ministers.
"However, because the administrative justice and tribunal system deals with disputes between the citizen and the executive, moving the process closer to ministers have serious disadvantages," he said. "It is vital that oversight is seen to be independent."
'Fragile and frustrated'
The chair of the council, Richard Thomas, has said the organisation has met its operational commitments since 2010 despite reduced resources and uncertainty over its future has left it "fragile and frustrated".
In a letter to ministers before Christmas, he said the organisation was the "hub of the administrative justice wheel" and suggested that "wheels cannot function properly if the hub is removed".
Under the terms of the 2011 Public Bodies Act, decisions to scrap quangos must be approved by Parliament and the government is obliged to give consideration to the views of select committees.
More than 100 quangos have been axed and a further 90 merged into other bodies since the coalition came to power.
The government has said the cull of publicly funded agencies is on track to save £2.6bn by the end of this Parliament.
A Ministry of Justice said they would "carefully consider" the committee's report and recommendations.