Conservative MPs are 'independent minded' and not 'robots' says chairman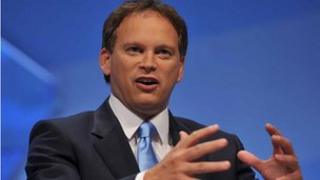 Conservative chairman Grant Shapps has defended the outspoken nature of many of his party's backbenchers, saying they are not "pager-driven robots".
MPs have been warned to refrain from criticising the leadership after their defeat in the Eastleigh by-election.
But Mr Shapps said backbenchers, particularly those elected in 2010, were "fiercely independently minded".
"We should remind people that we don't have a load of... pager-driven robots in Parliament," he said.
Amid talk of unrest in the party, the Australian elections strategist Lynton Crosby told Conservative MPs earlier this week that they had to decide whether they were "commentators or participants" and to stop airing divisions on social media.
'Genuine champions'
One backbencher, Sarah Wollaston, responded by saying this was the wrong message to give out and it was her job to be a "critical friend" of the government.
Asked about reports of increasing dissent on the backbenchers, Mr Shapps - who is a minister without portfolio in the Cabinet - told the House magazine that his colleagues were used to speaking their mind and this was one of their strengths.
"When you go out, as we did, and select people who are real people, who haven't spent their entire lives in politics, who have been doctors or teachers or have set up brilliant businesses, or commanded men and women in the field... not surprisingly, these are people who are proving fiercely independently minded.
"They've got where they got in life through being like that, and I think that we can be rather proud that if you have a Conservative MP elected for you, you've probably got somebody who is a genuine champion in your local area, a genuine champion for you at Parliament."
He added: "It is a product of bringing real people into politics and we should remind people that we don't have a load of - they used to have pagers - Blair's pager-driven robots in Parliament. We've got real people who are prepared to stick up for their constituents. It's a good thing."
Mr Shapps also praised a wide-ranging speech given by home secretary Theresa May on Saturday - in which she put forward ideas in a number of areas that could be included in the next Conservative manifesto - as evidence that the party was "fizzing with ideas".
Ms May is reported to have been criticised by Cabinet colleagues for fuelling speculation about her future leadership ambitions but Mr Shapps said that it was a "very good speech" and openly discussing future policy ideas was healthy for the party.
And he added: "David Cameron is more popular than all of us... more popular than all of the party in the country, which is a key point that lots of people do recognise."