How do new MPs feel about starting work in Westminster?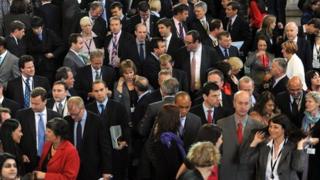 Following the 2010 election, 230 new MPs - one of the biggest intakes in 65 years - turned up at Westminster, fresh-faced and eager to start their new jobs. But how easy did they find it to settle in?
After each general election, Westminster welcomes dozens - sometimes hundreds - of new Members of Parliament.
It can be a confusing and chaotic time, with many new MPs struggling to find their way around Parliament's unfathomable maze of buildings, and trying to get to grips with its unfamiliar and arcane legislative procedures.
But logistical challenges can prove just as tough, with MPs sometimes waiting weeks to get an office, and many having no support staff.
The House of Commons Administration Committee is gathering the experiences of MPs from the 2010 intake to find out how they felt the start to their new working lives went.
'Alien working environment'
The responses so far show some MPs think Parliament still has some way to go in making MPs feel settled and able to start the job they were elected to do.
Kate Green, the Labour MP for Stretford & Urmston, said that although she received a "warm welcome" from parliamentary staff who were "anxious to help us in every way they could... in 30 years of working life, I have never found myself in such an alien working environment.
"Not having an office for the first several weeks left me totally disoriented, unable to focus on getting to grips with the job, and very stressed," she says.
Without the kindness of a fellow MP, who allowed her to share her office, and had she not inherited experienced staff from her predecessor, "my constituents would undoubtedly have suffered", she adds.
Conservative MP for Loughborough Nicky Morgan says: "I feel very strongly that MPs are completely unprepared (particularly those who have never worked in Westminster, and we do want those types of MPs!).
"They are, in effect, about to start running a small business," she adds.
This is a common description of how MPs feel about their jobs - 650 small businesses operating under one roof, with most setting up offices both in Westminster and their constituency.
When elected, as well as taking on the traditional role of a parliamentarian and constituency representative, they suddenly become HR manager, responsible for hiring and firing their own staff, and office managers, sorting out IT and other office equipment they need to get up and running.
"There is absolutely no training on how to employ staff. There should be much more guidance and training on how to set up our offices and employ people," Ms Morgan says, and "accommodation needs to be sorted out much more quickly".
Conservative Dr Therese Coffey, MP for Suffolk Coastal since 2010, says she cannot recall "any advice on training or employment of staff".
And the Independent Parliamentary Standards Authority (Ipsa), which oversees MPs' pay, expenses and pensions, comes under particular fire for how it handled the office costs of new MPs.
'Huge financial pressure'
Many MPs had to pay upfront for office equipment, sometimes thousands of pounds, before being reimbursed.
Descriptions of Ipsa's handling of new MPs range from "frankly intolerable" to "a disaster".
And Ms Morgan said the situation put "huge financial pressure on MPs who have probably earned nothing for at least the previous month if they have given up/taken leave from their previous employment in order to fight their seat".
MPs said assistance in getting to grips with the parliamentary estate and the workings of the House of Commons could also be improved, with one calling for something as basic as a map to help her get started.
Alex Cunningham, Labour MP for Stockton North, said he did not have any training in parliamentary procedure and was not aware of any, while Dr Coffey says the induction session held by parliamentary clerks in the Commons chamber offered only enough information "to get us going".
It looks like the committee will definitely find some room for improvement in making sure Parliament supports its new MPs, but after nearly three years in the role, Ms Green says she has finally started to get used to her workplace.
"I still think it's an alien working environment. But a lot of my early impressions have begun to fade."