Budget: Speaker Bercow seeks Osborne answers over leak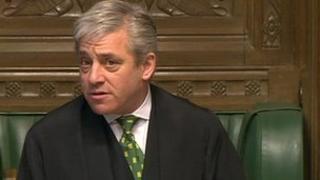 Speaker John Bercow has said he is "concerned" that details of the Budget appeared on social media before being announced in the House of Commons.
The Evening Standard has apologised after publishing a preview of its Budget-day front page on Twitter before the speech was delivered to MPs.
Mr Bercow said he did not intend to pursue the matter with the newspaper.
But he told MPs that he would seek to establish whether the Treasury made a habit of pre-briefing journalists.
"I am writing to the chancellor of the exchequer to ask him what happened on this occasion and whether this is a practice of the Treasury," he said, in a short Commons statement.
'Deplore'
Mr Bercow explained: "The Evening Standard yesterday published the main points of the Budget before the House was informed of them by the chancellor.
"I have received formal apologies from the editor and from the political editor of the Evening Standard. They have also apologised separately to the chairman of ways and means [deputy Speaker Lindsay Hoyle]... their error was extremely regrettable but I am minded not to take that matter further.
"However, the error would not have occurred had the newspaper not been in possession of prior detailed information about the Budget.
"This pre-briefing of Budget proposals is a matter of concern to me and, I judge, to the House as well."
Commons leader Andrew Lansley told MPs that he "deplored the leak".
"It has been a long-standing practice to provide information under embargo," Mr Lansley said.
"But as the House will be aware, the chancellor has asked the permanent secretary at the Treasury to investigate the circumstances of this event, both in relation to the material that was briefed and to whom, and what led to the Evening Standard's premature release of this information.
"I will ensure that the House is updated on that investigation."