Afghanistan: Progress being made despite 'formidable challenges', says Hague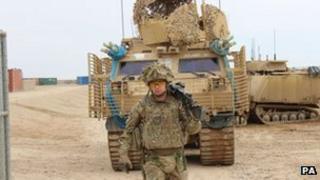 The international mission in Afghanistan is making progress but still faces "formidable challenges", William Hague has said.
The foreign secretary told MPs Afghan forces were now leading 80% of security missions and would take responsibility for all combat operations this summer.
He praised the bravery of UK troops, 440 of whom have died since 2001.
Force numbers will reduce by 3,800 this year ahead of the withdrawal of all 9,000 combat troops at the end of 2014.
Two British soldiers have died since the government gave its last quarterly update to Parliament on the situation in Afghanistan.
Mr Hague said the UK's strategy was unchanged and while the role of UK troops had increasingly shifted towards training and mentoring their Afghan counterparts, the UK would stand ready to provide whatever military capability was required until the end of its combat role.
'Path of transition'
The Afghan national army now had a strength of 330,000 and this would eventually rise to 352,000, he told MPs. Efforts to improve leadership in the national army were continuing, he added.
Mr Hague said the Taliban had the opportunity to engage in talks on a lasting political settlement with the Afghan and Pakistani governments and should seize it.
The UK has said the deadline for the end of its combat role is a firm one but it remains committed to Afghanistan and will run an academy to train military officers after 2014 as well as supplying economic and development support.
The UK and its Nato allies would decide in "due course" what level of military presence would remain in place after 2014, Mr Hague added.
"The path of transition will not be easy, but progress is being made and we will stand by the people of Afghanistan as they build a more peaceful and secure future," he told Parliament.
The US has said 34,000 of its soldiers - half of its force - will come home by the early part of 2014.