Falklands: Ambassador dismisses referendum as a 'publicity stunt'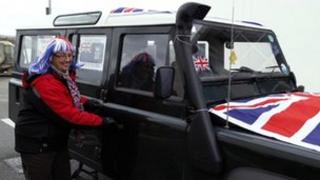 Argentina's ambassador to London has dismissed the near unanimous vote by Falkland Islanders to remain British as a "publicity stunt".
Alicia Castro said David Cameron had been "very disrespectful" to compare the result to "white smoke" emanating from the Vatican.
She said Argentina would not go to war over the islands' future.
But she predicted international pressure would force the UK to the negotiating table over sovereignty.
Most Argentines regard the islands, which they call Las Malvinas, as Argentine and their recovery is enshrined in the national constitution.
But Mr Cameron called on Argentina to respect the wishes of the people of the Falkland Islands to remain British.
In a two-day referendum on the Falkland Islands earlier this month just three residents out of 1,517 were against remaining British.
The UK prime minister said the vote in favour of staying a British overseas territory was the "clearest possible result".
He said Argentina should take "careful note" of the referendum, and Britain would always defend the islands.
'Very disrespectful'
It follows pressure from Argentina over its claims to the islands, 31 years after the Falklands War with the UK.
Ms Castro said she had been annoyed by Mr Cameron's joke about "white smoke" over the Falklands.
"Maybe he thought this remark to be amusing, but I think it is very disrespectful to compare a poll among 1,513 British inhabitants of the islands, which was a publicity stunt that has no legal effect, no legal grounds," she told BBC Radio 4's PM programme.
"It was not called by the United Nations, nor supervised, nor will be recognised.
"Comparing the election with the head of the Catholic church that gathers together 1.2 billion people in the entire world."
She said Argentina would "never go to war again on the Malvinas issue".
"I think that was a great, huge, mistake from the brutal military junta that ruled Argentina at that time.
"We will only insist in dialogue and negotiations and I think as the United Kingdom is isolated in this matter in a point they will have to accept the need for dialogue."
She also suggested that exploiting oil reserves in the area was not a realistic option as a spill would be an ecological disaster without access to logistical support from Argentina.