Mandelson to Balls: Spell out economic vision rather than just attack cuts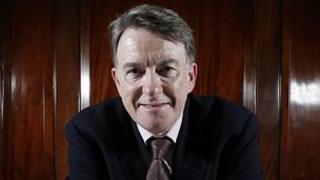 Shadow Chancellor Ed Balls' attacks on government spending cuts have become "predictable" and "tiring to the public", Lord Mandelson has suggested.
The former business secretary said arguments about the depth and speed of cuts were outdated and Labour should focus on how to rebuild the economy.
To maximise its appeal, Labour must talk about extending prosperity as well as social justice, he added.
Mr Balls declined to comment but Conservative MPs seized on the remarks.
They have long argued that Labour have failed to put forward an alternative to the government's deficit reduction plan and would simply borrow more to pay for a short-term stimulus.
In the wake of Wednesday's Budget - where growth forecasts were again slashed - Labour leader Ed Miliband and his shadow chancellor Ed Balls reiterated their call for the government to change direction, saying its measures were blunting growth and stalling efforts to cut borrowing.
'In the past'
Lord Mandelson, a close ally of Tony Blair who backed Ed's brother David in the contest for the Labour leadership, has avoided personal criticism of the two men but has repeatedly attacked their strategy.
He argues Labour needs to spell out its economic plans in more detail and say what it would do in power rather than just criticise the government.
Speaking at a CBI dinner on Thursday, he said the "whole argument about whether we are cutting too far and too fast" was "in the past".
"It is rather predictable party political stuff from over the dispatch box and it is a bit tiring to the public," he said.
Instead, he said Labour must concentrate on the future shape of the economy after a prolonged squeeze on public spending and other austerity measures and how a long-term recovery could be sustained.
And he added: "If the Labour Party is going to go into the next election and fight it on social justice rather than economic transformation and prosperity, it will be limited in its appeal".
At the end of a week in which George Osborne's stewardship of the economy has been under fire, Conservative MPs took to Twitter to highlight Lord Mandelson's comments.
"Even Labour's former business secretary - a man who knows how to win elections - thinks Ed Balls is living in the past," said Dover MP Charlie Elphicke.
"Labour have opposed every single saving this government is making to deal with the deficit, and are simply offering more of the same spending, borrowing and debt that got us into this mess in the first place."
Last month, Mr Miliband called for the restoration of the 10p tax band scrapped by Gordon Brown and a tax on properties worth more than £2m, his first significant tax pledges since being elected in 2010.