Keith Vaz warns of immigration 'arms race'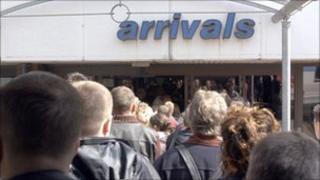 Party leaders should work together to avoid an immigration "arms race" that will create tougher policies, according to Keith Vaz, chairman of the Commons home affairs committee.
Mr Vaz wrote in the Sunday Express that "fringe parties" must not fill a vacuum over fears about new arrivals from Bulgaria and Romania next year.
He also asked why the government had no estimates of the expected arrivals.
These are "essential" for areas like welfare benefits and the NHS, he said.
"Rather as they did for the Royal Charter agreement after Leveson, Messrs Cameron, Clegg and Miliband should now sit down together and talk about this issue," the Labour MP said.
"By doing this they will deny fringe parties the opportunity to fill the vacuum and demonstrate to the British people they want to engage purposefully and productively in addressing one of the most challenging issues that our nation faces.
Visits query
"Research needs to be commissioned immediately, and we need to start a dialogue with the Romanian and Bulgarian governments.
"We still do not know how many times Mrs May has visited Bucharest or Sofia to discuss the problem: she refuses to answers Parliamentary questions about it."
He also said that the recently announced break-up of the UK Border Agency, which will once again be placed under direct ministerial control at the Home Office, was a good start but must not be simply "a re-branding exercise or a short-term fix to try to contain the campaigning zeal of UKIP", he said.
Prime Minister David Cameron has already announced that immigrant families will be kept off council house waiting lists in England for at least two years.
Councils are to have to introduce a residency test to stop immigrants gaining immediate access.
And deputy prime minister Nick Clegg has called for cash deposits of more than £1,000 for some migrants, saying the amount would be paid by visa applicants from "high risk" countries and repaid when they leave the UK.