Margaret Thatcher's legacy found in Australia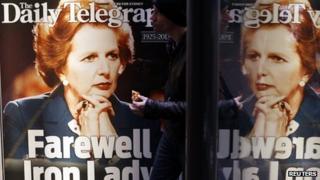 On a trip to the Australian outback in the mid-1970s, Margaret Thatcher feared that she had seen a glimpse of what Britain was in danger of becoming.
In the remote mining town of Broken Hill, the then Conservative opposition leader was greeted by union leaders who, she recalled afterwards, were "delighted and rather surprised" to see her.
With great pride, they explained how the unions essentially ran the town and that a local bar which challenged their domination had been boycotted and then forced to close.
"My guides were completely unabashed, indeed perversely pleased, about this blatant infraction of liberty," she wrote in her memoir. "I could not help wondering whether I had had an insight into Britain's future."
If not exactly formative, that 1976 trip to Australia certainly appears to have been reinforcing - it stiffened her Conservative resolve.
Knowing that she would spend a lot of time on planes, at the airport she bought Solzhenitsyn's novel, The First Circle, which made her think more deeply about freedom and democracy.
She was also unimpressed by Australian conservatives, led at that time by Prime Minister Malcolm Fraser, who were not committed enough to creating a free-enterprise economy and ending protectionism.
The applause, as she wrapped up a speech to the Liberal Party in Canberra, was "far from deafening." It led her to conclude that her Australian contemporaries were not ready for her "unapologetic conservatism."
A meeting with Sir Robert Menzies, Australia's longest-serving prime minister and a member of Churchill's Imperial War Cabinet, was altogether more satisfying.
The retired elder statesman had read her speeches about the continued Soviet threat, at a time when relations had eased between Washington and Moscow.
"When I found myself complimented by this remarkable man," she said, "it strengthened me in the conviction that I was right and that the detente establishment was wrong." In Menzies, she saw a fellow Cold War warrior.
Even in 1976, three years before she became prime minister, there was an Australian fascination with Margaret Thatcher.
Since then, her governing philosophy and economic creed have come to be enthusiastically embraced on the Australian right. In a country more than 10,000 miles from Westminster, the legacy of Thatcherism can be found.
It is seen most obviously in the prime ministership of John Howard, her antipodean ideological heir. From privatising the telecommunications giant, Telstra, to introducing workplace reforms aimed at reducing the power of the unions, the Howard years had a Thatcherite imprint.
His headstrong style of leadership was also similar, and so too, his electoral strategy, which targeted striving blue collar voters who had traditionally supported Labor.
The "Howard battler" is not dissimilar to Thatcher's "Essex Man."
"They had an ability to appeal to and encourage the aspirations of people from working-class and lower middle-class backgrounds," says Don Markwell, executive director of the Menzies Research Centre conservative think tank.
"John Howard adopted and applied many of Thatcher's ideas in Australia."
Though Howard dominated conservative politics in much the same way, he cannot claim to have been such a transformative figure.
By the time he came to power in 1996, more than five years after Margaret Thatcher being ousted, the Australian economy had already undergone a period of massive change under two Labor prime ministers, Bob Hawke and Paul Keating.
From floating the Australian dollar to selling off the state-owned Commonwealth Bank, from financial deregulation to liberalising trade policy, Hawke and Keating pursued free market reforms that resembled Thatcherism.
Their approach, however, was wholly different. Hawke, a former union leader, sought not to confront the Labor movement but to bring it with him.
Both Labor leaders tried to build a consensus around their policies. Keating called this blend of economic liberalisation and social democracy "the third way," a phrase Bill Clinton and Tony Blair also embraced, as they set about reviving their parties in the post-Reagan and post-Thatcher era.
Evidently, Margaret Thatcher was impressed with Australia's Labor reformers.
"I found Mr Keating refreshingly orthodox on finance," she wrote in her memoir, "a far cry from the British Labour Party."
She was also fond of Bob Hawke, despite "bitter" disagreements over imposing sanctions on South Africa.
"Although I had some famous rows with Bob Hawke," she said, "I found him easy to deal with: like me, he was blunt."
Of the three Australian leaders she dealt with as prime minister, she seems least impressed with Malcolm Fraser.
"I never struck up any real friendship with Malcolm Fraser. Our views and attitudes were too different."
'Last Night of the Poms'
Despite not getting on, Malcolm Fraser has praised her leadership.
"You've got to put what she did or had to do against the background of previous British governments, who'd been too soft or too weak. Britain was overspent as a country and Margaret Thatcher had the unenviable task of putting all of that right.
"I think she did enormous good for Britain."
Unsurprisingly, John Howard has been even more glowing. He has called her "the greatest British prime minister since Winston Churchill" and "one of those rare people in politics who transformed a country and made a lasting impact".
Margaret Thatcher made three prime ministerial visits to Australia, in 1979, 1981, for a meeting of Commonwealth heads of government, and in 1988 for the country's Bicentennial celebrations.
She was not keen to make the trip, thinking she would be "one Englishwoman too many."
However, Bob Hawke persuaded her to do so - "he was to prove consideration itself".
A highlight was a concert in Brisbane modelled on the Last Night of the Proms, called Last Night of the Poms, which seemed to appeal to her sense of humour.
Reading her memoirs, a fondness for Australia comes through, and also a sense that its relationship with Britain would change as it assumed more of a regional role.
Australia should "now be considered at last as much a power in its own right," she wrote, foreshadowing the Asian century, "as a partner in the Anglo-Saxon world."