Falkland Islands day of mourning for Baroness Thatcher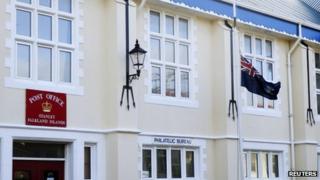 The Falkland Islands will hold a day of mourning when Baroness Thatcher's funeral takes place next Wednesday.
A memorial service at Christ Church Cathedral, Port Stanley, will be heard live on Falklands radio and recorded for the islands' television service.
The former prime minister ordered a taskforce to retake the islands when Argentine forces invaded in 1982.
Falkland Islanders voted overwhelmingly in favour of remaining a UK overseas territory in March this year.
Some 1,513 of the 1,517 votes in the two-day referendum were for and just three were against, on a turnout of more than 90%.
The ballot followed continued Argentine claims to the islands, nearly 31 years after the Falklands War.
'Colossal pride'
After Argentine forces were defeated on 14 June 1982, Margaret Thatcher said: "What the Falklands proved was that we could still do it, and do it superbly.
"There was a feeling of colossal pride, of relief, that we could still do the things for which we were renowned.
"If anyone had told me at the beginning that we should send 27,000 men and over 100 ships, I wouldn't have believed it."
Margaret Thatcher Day is celebrated every 10 January on the islands and a street is named Thatcher Drive after her in the capital Port Stanley.
The funeral of Baroness Thatcher, who died on Monday, will be held at St Paul's Cathedral in London.