More guests for Baroness Thatcher's funeral announced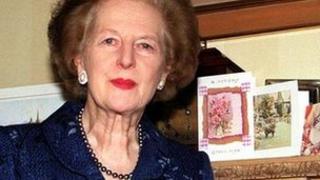 Downing Street has released the names of more guests who will attend Lady Thatcher's funeral, including internet pioneer Sir Tim Berners-Lee.
Advertising magnate Lord Saatchi and former Australian Prime Minister John Howard have also accepted invitations.
The ceremony will be held at St Paul's Cathedral in London next Wednesday.
David Cameron is to read a lesson; Lady Thatcher had said whoever was prime minister at the time of her funeral should take part in the ceremony.
It has also been confirmed that the Queen and Prince Philip will attend.
Meanwhile, friends of the Thatcher family say that the event will not be overtly political in nature and will reflect on both her faith and patriotism.
The guest list for the funeral was drawn up by Lady Thatcher's family with the assistance of the government and the Conservative Party, with more than 2,000 invitations being dispatched on Friday.
It will be the first funeral of a British politician the Queen has attended since that of Sir Winston Churchill in 1965.
In other developments:
The cathedral has a capacity of 2,300 and is expected to be full on the day.
Metropolitan Police Commissioner Sir Bernard Hogan Howe, whose force is in charge of security arrangements for the day, is expected to attend.
Broadcaster Andrew Neil, singer Katherine Jenkins and actor Michael Crawford will be present, as will Tory donor Lord Harris and Canadian Prime Minister Stephen Harper.
Those who have already confirmed they will not be attending include former Soviet leader Mikhail Gorbachev and Ronald Reagan's widow Nancy.
Neither George Bush Senior, Mr Reagan's vice-president who succeeded him in the White House, nor his son George W Bush, US president between 2001 and 2009, will be attending.
And Lord Kinnock, who was Labour leader for most of Lady Thatcher's time in Downing Street and was defeated by her at the 1987 election, says he will not be present because of a commitment to attend the funeral of a former local councillor in Wales.
All surviving members of Lady Thatcher's cabinets will be invited, as will the current cabinet and Labour leader Ed Miliband.
Other invited guests from around the globe include former US Secretary of State Hillary Clinton, European Commission President Jose Manuel Barroso and a representative of Nelson Mandela.
A service will be held on Tuesday afternoon before Lady Thatcher's funeral in the Chapel of St Mary Undercroft in the Palace of Westminster, where her body will rest overnight.
The short service, for around 100 people, will be led by the Dean of Westminster and attended by members of the family, senior figures from both Houses of Parliament and staff from Parliament and Downing Street who knew or worked closely with the former prime minister.
After the service, the chapel will be open for several hours in order that members of both Houses and parliamentary staff may pay their respects. The Speaker's Chaplain will keep vigil in the chapel through the night.
More than 700 armed forces personnel will line the route of the funeral procession from Westminster to St Paul's, including three bands whose drums will be covered in black cloth.
A gun salute will be fired from the Tower of London and the coffin will be carried into St Paul's by service personnel from regiments and ships closely associated with the Falklands campaign.
Following the funeral, the City of London Corporation will hold a reception at London's Guildhall for invited guests.
Lady Thatcher, who won three successive general elections, died on Monday after suffering a stroke while staying at the Ritz hotel in central London.
Westminster
The funeral procession will set out from the Palace of Westminster with Baroness Thatcher's body carried in a hearse for the first part of the journey. The coffin will be trasferred to a gun carriage at the church of St Clement Danes on the Strand.

Baroness Thatcher's body will lie overnight in the Chapel of St Mary Undercroft which is found beneath St Stephen's Hall at the Palace of Westminster.
St Clement Danes
At the RAF Chapel at the church of St Clement Danes on the Strand, Baroness Thatcher's coffin will be borne in procession to St Paul's Cathedral on a gun carriage drawn by six horses of the King's Troop Royal Horse Artillery.
St Paul's Cathedral
There will be a Guard of Honour outside St Paul's as the coffin is transferred into the Cathedral by service personnel from regiments and ships closely associated with the Falklands campaign.

The ceremony in St Paul's Cathedral will be attended by the Queen and Duke of Edinburgh, family and friends of Baroness Thatcher, members of her cabinets and dignitaries from around the world.
Downing Street
The funeral passes Downing Street, which is found on the left of the route along Whitehall.

Baroness Thatcher was resident at Number 10 for more than ten years following her General Election victory in 1979.
Ceremonial procession
Once the procession leaves St Clement Danes, the route to St Paul's along Fleet Street and Ludgate Hill will be lined by more than 700 armed forces personnel from the Royal Navy and Royal Marines, F Company Scots Guards, 1st Battalion Welsh Guards, and the Royal Air Force.