Civil service chiefs deny Thatcher article 'sycophantic'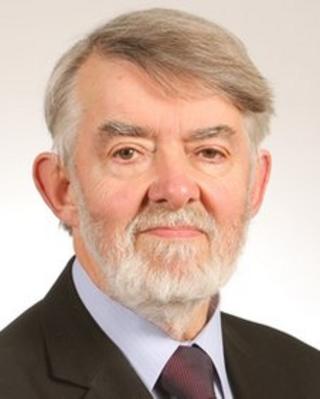 Two top civil servants "prostituted" their positions by casting Baroness Thatcher as a "saintly figure", Labour backbencher Paul Flynn has said.
In an article for the Daily Telegraph, cabinet secretary Sir Jeremy Heywood and head of the civil service Sir Bob Kerslake said the "kindly" former PM was "the best kind of boss".
"You penned an article that was entirely sycophantic," Mr Flynn told them at a Commons committee hearing.
The pair rejected the MP's criticism.
"When she came into power in 1979, after the so-called winter of discontent, many saw the civil service as the all-too-willing stewards of the 'orderly decline of Britain'," Sir Jeremy and Sir Bob had written.
"By the time she left office 11 years later, the landscape was transformed and the civil service modernised."
'Fierce political debate'
The senior civil servants concluded that Lady Thatcher had been "kindly and unswervingly loyal to her team and, once she had decided what she thought, provided clear and consistent direction".
Their joint article also revealed that the late PM used to "nourish her civil servants with home-cooked shepherd's pie whenever they were working late".
But Sir Jeremy and Sir Bob's comments provoked hostile questioning from Labour members of the Commons public administration committee.
Lady Thatcher's legacy "divides this country; divides this House", Mr Flynn argued.
As the pair testified on the future of the civil service, the Labour MP for Newport West told them: "I can't understand what on earth provoked you into writing this article and to enter into this fierce political debate."
Claiming that more junior civil servants making overtly political statements would be likely to face disciplinary action, he added: "You as top civil servants have supported that political campaign to establish her as a saintly figure."
'Tradition of neutrality'
The Labour MP demanded to know why they had neglected to write about the 171,000 civil servants who he said had been sacked during Lady Thatcher's premiership.
"Shouldn't [the article] be balanced by suggesting that some of the things she did weren't as popular with the civil service as the shepherd's pie she served to them late at night?" he asked.
"Every word in it was in praise of Margaret Thatcher… shoring up some of the exaggerated things that are said of her. There was no question of any attempt at balance, saying some things she did perhaps weren't perfect. It was a hagiography."
Mr Flynn described the article as a "clear breach of the tradition of neutrality in the civil service" and demanded an apology.
But Sir Jeremy replied: "I don't think we'll apologise for it, no. We didn't think it was a political article at all."
He added: "I don't think it was sycophantic at all. I think it is an accurate description of what civil servants who used to work for Margaret Thatcher felt."
Labour's Kelvin Hopkins also criticised the content of the article, but Sir Jeremy said he had merely drawn attention to "a series of factual comments about policies she pursued".
Sir Bob added: "We're clear that we weren't entering a political debate."
He explained: "I re-read the article again this morning; I entirely back Jeremy's view. The article was about the reflections of civil servants at the time, of how they found working with the prime minister."
Mr Flynn walked out of the committee hearing just over 10 minutes after it had started, although he suggested this was "not entirely" due to his dissatisfaction with the answers he had received.
He had concluded: "I believe what's happened is a breach of all the traditions of the civil service, and I believe you've prostituted your high office and deserted your political neutrality, and I believe you've both behaved disgracefully."