Ed Balls thanks Osborne for sponsoring his marathon effort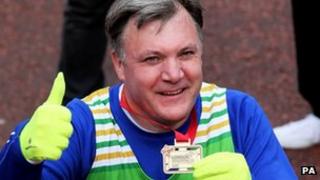 Shadow chancellor Ed Balls has thanked his political adversary George Osborne for sponsoring him as he completed his second London Marathon.
After crossing the finishing line, he revealed the chancellor had given £25 to each of his chosen charities, Action for Stammering Children and Whizz-Kidz.
Mr Balls finished in five hours, 14 minutes, but joked he had worried about "flatlining" during the race.
He regularly criticises the government for a flatlining economy.
Many competitors wore a black ribbon and observed a 30 second silence in honour of those killed and injured in last week's bombing at the Boston marathon.
Mr Balls said it was important to show that Britain would "carry on regardless" despite the attacks.
Speaking after the race, Mr Balls said that his "biggest concern today was I'd be flat-lining before I got all the way round".
And he revealed that he had been received support from the unexpected quarter. "The good thing is George Osborne, the chancellor, who I have often disagreed with on many things, he sponsored me for my run today so thanks George for that."
Mr Balls, who has now raised £100,000 for the charities from running two marathons, was among a number of politicians running for good causes.
His Labour colleague, shadow defence secretary Jim Murphy, was among other MPs to complete the 26.2 mile race.
Another competitor, Tory MP Graham Evans, tweeted that he was "glad to have finished" and his "legs were not too bad".