Tory MP urges 20-year ban for migrants who abuse visas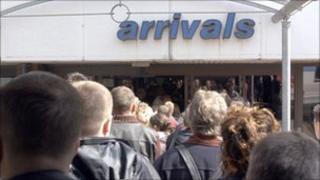 Migrants who abuse their visa status should be barred from entering the UK again for 20 years, a MP has said.
Conservative Mark Pritchard said there had been "unprecedented" abuse of the system that needed to be tackled.
Non-EU migrants who overstay their visas must "regularise" their status by April 2014 or face sanctions, he said.
Anyone who complies would still be deported but would be able to apply to re-enter the UK after a year, he told MPs during a debate on immigration.
Mr Pritchard put forward the idea during a debate in Parliament on the end of work restrictions on Bulgarian and Romanian migrants from the end of this year.
'Social change'
The debate was triggered by an online petition, signed by more than 100,000 people, calling for existing controls on what work migrants from the two countries can do once in the UK to be extended.
The MP for The Wrekin said immigration was part of the UK's "national narrative" and had brought major economic benefits in both rural and urban areas.
However, he said it had resulted in "rapid social change" and the UK public had been constantly "misinformed and misled" by the authorities about its impact on communities and on public services such as hospitals, schools and housing.
He called for all non-EU migrants who have overstayed their visas - including students and family dependants - to be required to declare their status to the authorities within a year.
While all those living in the UK illegally should be deported, he said those who co-operated should be given the opportunity to return to the UK after a year.
"Those who regularise their status will be rewarded," he said. "Those who continue to abuse their status will receive a sanction."
What he was proposing was "not an amnesty" but "hard-headed sanctions" that would incentivise people to declare themselves to the authorities, he stressed.
All parties have been reconsidering their immigration policies before the end of so-called transitional controls on Bulgaria and Romanian workers - amid a growing acknowledgement that the UK failed to anticipate levels of immigration from Eastern Europe after the EU was enlarged in 2004.
Security bonds
The government is considering what access migrant workers should have to the NHS and the benefits system in future.
Last month, Deputy Prime Minister Nick Clegg called for cash deposits of more than £1,000 for visa applicants from "high-risk" countries, to be repaid when they leave the UK, while Labour has called for tougher sanctions for employers who exploit foreign workers.
The government has been criticised for not publishing estimates about the number of Bulgarians and Romanians likely to be coming to the UK.
The Bulgarian ambassador to London has said the end of restrictions is likely to have a limited impact and warned about "hostile propaganda" over the issue.
Speaking in Monday's debate, Labour MP Keith Vaz said the previous government had made mistakes over immigration and Parliament must show it could debate the issue in an "open and transparent way" and not let "fringe parties take control" of the subject.