Minister says UK 'gold plating' of EU laws has stopped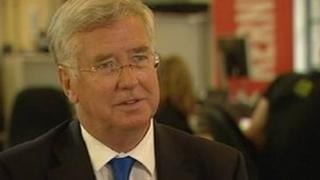 Business Minister Michael Fallon has tightened the rules on adopting EU regulation.
It has been claimed that the UK sometimes enacts more regulation than the EU requires it to when the EU issues a directive.
But Mr Fallon says that this practice has now been "effectively ended".
Speaking at an Open Europe event, he said ministers were now required to "transpose only the minimum necessary to comply with each directive".
In his speech at the London-based think-tank, Mr Fallon said that he intended to "block all legislative proposals" which did not meet this criteria.
Disadvantage for business
Gold plating is a term used to describe the process where a basic EU directive is given extra strength when being incorporated into UK law.
A spokesman for the Department for Business Innovation and Skills said an example was the rule giving temporary staff the right to the same pay as permanent staff. Gold plating to the British version had also given temporary workers the right to performance-related bonuses, something which was not in the original EU law.
A pledge to end the so-called gold plating of EU regulations was in the coalition agreement, and the original policy guidelines were finalised in June 2011.
They included a requirement to ensure that British business was not put at a disadvantage, and a legal requirement to review all EU legislation every five years.
The extra guideline, saying that all departments are specifically required to ensure that they are only implementing the absolute minimum regulation necessary to comply with the EU, came into force on Tuesday.
Small businesses have been enthusiastic about the move. John Allan, National Chairman, Federation of Small Businesses, said: "We will make sure that the Government keeps to its pledge to refrain from gold-plating and adding in extra UK-only requirements that make UK businesses uncompetitive with other countries across the EU."