No 10 urged to prune £50,000 annual gardening bill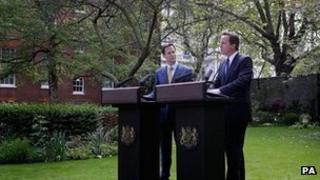 Labour MP Diane Abbott has called on No 10 to cut spending on its garden, which amounts to nearly £50,000 a year.
The taxpayer-funded garden behind the prime minister's residence features a meticulously manicured lawn and expertly maintained flower beds.
In response to a parliamentary question from Ms Abbott, the Cabinet Office said the 2010-11 gardening bill was £49,060; the following year it was £47,321.
The Labour MP commented: "Is there no way these costs could be cut a bit?"
She said people were facing cuts and struggling to make ends meet "whilst money is being lavished on David Cameron's garden".
But Cabinet Office Minister Francis Maude said that spending in 2009-10, under former Labour PM Gordon Brown, was even higher at £56,027.