Welfare-to-work: Jobseekers' scheme failing, say MPs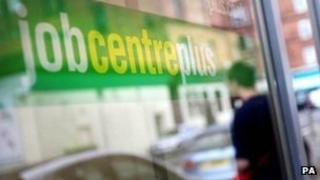 A scheme to help the unemployed find work appears to be failing the most disadvantaged jobseekers, according to MPs on the Work and Pensions Committee.
Their report said support for the mainstream jobless in the government's Work Programme, launched in June 2011, was getting better after a poor start.
But it said there was growing evidence service providers were "parking" the most disadvantaged people.
The government said it was early days but improvements were being made.
The programme is primarily aimed at getting people who have been unemployed for more than a year into a job.
'Poorly-matched CVs'
It is delivered by 18 prime contractors working for the government and hundreds of smaller sub-contractors from the voluntary, community and private sectors.
Providers are paid by results, meaning they get most of the fee for finding someone a job that they stay in for up to two years. They get more for the harder-to-help jobseekers.
Despite this incentive, said the committee, there was "growing evidence" that organisations were "parking" the most disadvantaged.
Last year the government faced calls to scrap the scheme after just 3.5% found a job for six months or more - missing the coalition's 5.5% target.
Dame Anne Begg, chairman of the committee behind the report, said the programme's performance in its first 14 months was poor but there were signs of improvement for mainstream jobseekers.
However, she said the government needed to do more to help the homeless, people with disabilities and those with drug or alcohol problems find jobs.
"Too often, the reality seems to be Work Programme advisers swamped by caseloads of 120-180 jobseekers and employers deluged with poorly-matched CVs and under-prepared candidates," she said.
"Work Programme providers need to focus on preparing jobseekers for real vacancies and offering an effective recruitment solution to employers."
TUC general secretary Frances O'Grady said the concerns raised could not be "swept under the carpet".
"Instead of continuing to fund failing programmes, the government should introduce a job guarantee for all those facing long-term unemployment."
The Department for Work and Pensions said that by last September, more than 207,000 people had been helped into a job through the Work Programme, and the performance was "clearly improving".
"The payment-by-results model goes further than any previous scheme to encourage providers to help all claimants, including the hardest to help," a department spokesman said.
"The key point is they earn the majority of their payment for helping someone into work and keeping them there."