David Cameron tells Tory grassroots he is "one of them"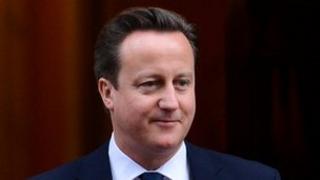 David Cameron has made a fresh attempt to heal the rift that has developed between him and some grassroots Conservative activists.
When asked about his relationship with his own party, the prime minister said: "I feel I am one of them."
Newspapers have reported claims a close ally of Mr Cameron described Tory members as "mad, swivel-eyed loons".
Many activists have been angered by Mr Cameron's stance on same sex marriage and Europe.
When asked about the alleged swivel eyed loon comment on BBC Radio 4's Today programme, Mr Cameron said "It is not what I think, it is not what people around me think."
He added: "I think of the volunteers in my own constituency, they are not just my friends and my supporters, I feel I am one of them. If I wasn't a Member of Parliament I would be with them, supporting their Member of Parliament."
On Tuesday, Mr Cameron sent an email to all Conservative Party members praising their "duty and decency" and insisting he would never admit anyone who "sneered" at them into his inner circle.
The success of UKIP in the recent local elections has heightened tensions between Conservative grassroots and the leadership.
Nigel Farage's party recently took out a full-page advert in the Daily Telegraph which told disillusioned Conservative members that their "party now treats you with contempt", and they should "put country before party" and defect to UKIP.
The government's introduction of gay marriage legislation has also dismayed many Conservative activists.
On Sunday 19th May, a group of of constituency chairmen delivered a letter to Number 10 calling the proposals "Un-conservative, divisive and costing us dearly in votes and members."