UKIP donor Demetri Marchessini quits after controversy over views on women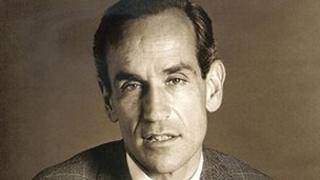 A UKIP donor who said unmarried mothers should be "given a good smack" has said he will give no more money to the party because of the controversy about his views.
Demetri Marchessini, who has made two donations totalling £10,000 to the party, wrote a book arguing women who wear trousers are demonstrating "hostile behaviour".
He told the BBC he stood by his views.
"All my thoughts are traditional thoughts," he said.
"Thoughts that not millions but billions of people have believed."
On his blog, Mr Marchessini dismisses the majority of sexual abuse in the Catholic Church as "old fashioned homosexuality" and suggests there is no such thing as date rape.
Mr Marchessini said he had met UKIP leader Nigel Farage on two occasions but would make no more donations.
He said: "There's been such a fuss about what I've given it's a bore."
'No strings attached'
He said his views were nothing to do with UKIP and were expressed before he became involved with the party.
He was a UKIP supporter, he said, because he wanted the UK to withdraw from the European Union.
"Those are not UKIP thoughts," he said. "They are my thoughts."
In a letter to the Daily Telegraph, which first highlighted his blog posts, he gives a further defence of his views.
He writes: "You also mention that I consider unwed mothers as 'naughty girls'. Of course I do - have they not been so considered since time immemorial? Furthermore, today they are much more naughty than in the past."
A UKIP spokesman said the party's donors did not dictate its policy.
He added: "We neither share nor condone these views. He can donate to whoever he wishes to donate to. Those donations do not come with strings attached."
In a blog posting from January this year titled A Chance for UKIP, Mr Marchessini wrote: "First of all, the question is why should unwed mothers be given anything? They have been naughty girls, and should be given a good smack."
In his 2003 book Women in Trousers, he wrote: "Women know that men don't like trousers, yet they deliberately wear them.
"This is hostile behaviour - they are deliberately dressing in a way that is opposite to what men would like."