Labour 'would reverse' coalition planning laws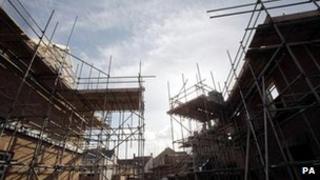 Labour says it would reverse some of the coalition's controversial planning changes in England.
Shadow communities secretary Hilary Benn said it would trust local people to decide where homes should be built.
He told the Telegraph that ministers were "in a right mess" over planning and increasingly centralising decisions in a desperate bid to boost growth.
But the government accused Labour of "seeking to delete the green belt" when in power and stalling housebuilding.
In April 2012, planning law in England was changed with the aim of speeding up planning decisions and boosting housebuilding.
Sustainable development
Under the National Planning Policy Framework, local authorities are required to work out future housing needs in their area, and then allocate sufficient land to meet it.
But a "presumption in favour of sustainable development" caused a row with conservationists who argued it amounted to a "developers' charter".
In a column for the Daily Telegraph website, Mr Benn accused the government of moving away from giving communities greater powers over planning to "encouraging a free-for-all".
He criticised powers contained in the Growth and Infrastructure Act, which allow planning applications to be decided directly by the Planning Inspectorate, if a council has not been "performing adequately" in determining applications.
This would cause "a lot of anger" when unpopular developments went ahead "on the say-so of a national quango reporting directly to ministers".
'Thrashing about'
And he said other changes would make it easier for "payday lenders and betting shops top open up in our local high streets" - which would discourage other businesses.
The government claimed to support localism, but they were now "thrashing about trying to find ways to boost economic growth", he said.
"There is a Treasury view that planning is the problem and that if you get rid of restrictions then the economy will recover - they are wrong."
He said government plans were not boosting house building and "local communities should decide where they want new homes to go".
Labour would "reject the orthodoxy of the past - that people can't be trusted to make the choice - and give more power, more responsibility and more rights to local people, and then let them decide."
Labour sources said the party would restore its "brownfield-first" policy and reverse clause 1 of the Growth and Infrastructure Act, which allows developers to apply directly to the secretary of state for planning permission in some cases.
There should be constructive dialogue at a "very local level" - with "mechanisms for directly talking to people", separate from local councils.
But Communities and Local Government Secretary Eric Pickles said Labour had "dragged housebuilding back to its lowest peacetime level since the 1920s" when in power.
He said Labour's regional spatial strategies - which set housebuilding targets regionally through plans by local development agencies - had "built nothing but resentment within communities and were seeking to delete the green belt in 30 towns and cities across the country".
"Labour would reintroduce regional planning, handing power from local people to unelected quangocrats," said Mr Pickles.
"This government has simplified the planning system so councils have the freedom to make decisions in the best interests of their area.
"We have ensured that communities are now central to that system, which will bring about the sustainable development the country needs.
"We are making the most of every inch of brownfield land to assist regeneration, and getting empty and underused buildings back into productive use - by bringing in more flexible permitted development rights.
"We are committed to building more homes in sensible places and have given communities the power to set out the local development they want through neighbourhood planning."
Fellow Conservative minister Sajid Javid, Economic Secretary to the Treasury, also accused Labour of planning to bring back regional targets.
That, he said, would "bog down the planning system" and undermine Labour leader Ed Miliband's pledge to increase housebuilding in order to bring down the housing benefit bill.