Reshuffles damage government, says a committee of MPs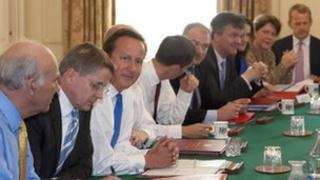 Endless cabinet reshuffles damage the effectiveness of government, a committee of MPs has warned.
UK prime ministers re-jig their top teams from time to time.
But the practice can lead to instability and "paralysis" within government, the political and constitutional reform committee said.
The committee praised current Prime Minister David Cameron, who has carried out just one major reshuffle, last September, since taking office.
In opposition, Mr Cameron was a critic of Tony Blair's habit of reshuffling his senior ministers in an attempt to freshen up his government and re-launch it to the public.
Inevitable
He has managed to keep most of his key ministers in place but, as the leader of a coalition government, has less room for manoeuvre than his Labour predecessor.
There is also speculation that he will carry out a second reshuffle in the autumn.
Some minsters, such as former Home Secretary Lord Reid, who held eight government jobs during Labour's 13 years in power, go through a succession of different departments.
Some departments, such as transport, have seen a succession of different bosses.
According to the committee's report: "There were six secretaries of state for transport between 2001 and 2010 and there have already been three secretaries of state for transport since the 2010 general election.
"Of the nine post-holders over the past 12 years, four were in post for less than a year."
The committee said some reshuffling of ministers was inevitable because of resignations and illness but reshuffles had become a habit in the UK.
'Ministerial development'
There would be times when a fresh perspective was useful, but most major government policies would benefit from having continuity of ministers in the responsible department, it said.
It said secretaries of state should be kept in post for the length of a parliament and junior ministers for a minimum of two years.
The committee called for better training for newly appointed ministers, who often have no prior knowledge of their policy area. It said ministers should hand over to their successors rather than leaving handover briefings to civil servants.
The report also called for a specially designated minister in the Cabinet Office for "ministerial development" and basic ministerial training for shadow ministers in the 12 months before the expected date of a general election.
Committee chairman, Labour MP Graham Allen, said: "Reshuffles are damaging to the effectiveness of individual ministers and of government as a whole.
"They also hinder Parliament's ability to hold government to account.
"In the UK, we've got used to having reshuffles every couple of years, but other countries manage very well without them.
Every time there is a reshuffle, it is proceeded by months of speculation about who will move where, which in itself causes a kind of paralysis within government.
"I welcome the fact that the current prime minister has had only one reshuffle," said Mr Allen. "I hope our report will encourage future prime ministers to follow his example."
He said reshuffles were often irrational "political events" and more effort should be made to make the process "rational".
A spokeswoman for the Institute for Government said: "Most recent prime ministers have reshuffled too frequently, chopping and changing their teams for the sake of short-term, often illusory, political gain and often at the expense of stable and effective political leadership.
"When reshuffles do take place, there should be a better-planned handover process and incoming ministers should be provided with training and development support to enable them swiftly to get up to speed with the demands of the job.
"We are delighted to assist, as the reports recommends, in providing induction and development support after a reshuffle and when a new government is formed".