Nadine Dorries: I'd fancy a go at Strictly Come Dancing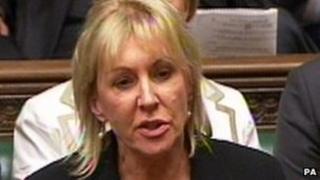 Nadine Dorries has said she would like to appear on Strictly Come Dancing despite getting in trouble for her exploits on another TV show last year.
The Conservative MP was suspended after she flew to Australia to take part in I'm a Celebrity, but had the party whip restored six months later.
Ms Dorries told Total Politics her constituents "absolutely loved" her for it and she would consider other offers.
She also said Boris Johnson would definitely become Tory leader one day.
The MP, who has been a frequent critic of David Cameron and George Osborne, said those who believed the Conservatives would definitely win an outright majority at the next election were "naive" and "delusional".
"I understand it's important to put out the message that we're going to have a Conservative majority with Cameron… [but] the people who say that are foolhardy and setting themselves up to look like idiots," she said in an interview for the monthly magazine.
The BBC's political correspondent Carole Walker said that the MP believed the party needed to fight for the next two years as if it feared it would lose the election.
'Seen in Tesco'
Ms Dorries also suggested her party would be "idiotic" not to turn to the Mayor of London if it lost power.
"He will be a leader of the Tory Party, there's no doubt," it quoted her as saying.
"He's won two major elections, and nobody else in the party matches that at the moment. We would be idiots not to have Boris. He'd take the party back to the highlands again pretty easily."
The MP was censured by the party leadership after leaving Westminster for several weeks to appear on the ITV reality show in November 2012 but she maintains that she was unfairly treated and continued to represent her constituents during the period.
She says said she has not personally benefited from going into the jungle although it was reported recently that she is being investigated by the parliamentary commissioner for standards.
The MP for Mid Bedfordshire said she would not rule out other forays into the world of show business.
"I definitely would do more reality stuff. My constituents absolutely love it, because they've got someone of their own, who they see in Tesco, on there... I'd love to do Strictly Come Dancing - who knows?"
Former MP Ann Widdecombe appeared on the show in 2010 but only after she left Parliament while Lib Dem Cabinet minister Vince Cable has made a guest appearance on a Christmas special.