Minister reassures Tory MPs over marriage tax breaks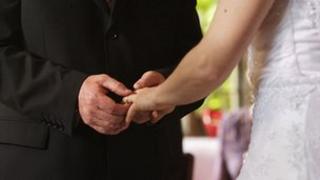 The government is "firmly committed" to recognising marriage in the tax system before the end of this Parliament, Treasury minister David Gauke has said.
David Cameron is under pressure from Tory MPs to honour a 2010 manifesto pledge by allowing people to transfer tax allowances to their spouses.
Under plans being considered, married couples where one partner does not work could get a tax break of £150 a year.
The Conservative manifesto limited the tax break to basic-rate taxpayers.
Conservative MPs have called on ministers to signal a firm date when the measure - which is opposed by their Lib Dem coalition partners - will be brought forward.
Under plans being considered, wives and husbands who do not work and pay no income tax would be able to transfer part of their annual tax-free allowance to their spouse if their partner earns less than the higher rate of tax, which currently kicks in for people earning £41,451 or more.
In a letter to Conservative MPs Mr Gauke did not spell out what the proposal would be, but sets out the 2010 manifesto commitment that a non-working member of a married couple or civil partnership would be able to move £750 of their tax-free allowance to their working partner, worth about £150 a year to basic-rate taxpayers.
'Injustice'
In their 2010 election manifesto, the Conservatives said recognising marriage and civil partnerships in the tax system would "send an important signal that we value couples and the commitment that people make when they get married".
The policy has not been introduced, with ministers saying efforts to cut the deficit and to raise the starting point for income tax to £10,000 to help low earners have taken priority.
But Conservative MPs have contrasted the lack of progress on the issue with the government's decision to press ahead with plans to legalise gay marriage - which was not included in the party's main 2010 manifesto.
In a letter to all Conservative MPs, published by the Spectator, Exchequer Secretary to the Treasury Mr Gauke has sought to reassure them that support for married couples remained firmly on the party's agenda
"The prime minister has always been clear that it is important to recognise marriage in the tax system, and this firm commitment remains," he wrote.
"As you will be aware, the Conservative manifesto at the last General Election set out our policy to introduce a transferable tax allowance of £750 between spouses and civil partners. This was restricted to basic rate taxpayers."
He added: "I know that many of you will have heard the chancellor set out his commitment to deliver on this during the course of this Parliament. An announcement on details of how we will legislate for this in this Parliament will be made by the chancellor in due course."
'Clear and popular'
But MPs said they wanted action rather than further assurances.
"There is only a certain amount of promises about 'in due course' that hard-working families can take," Tim Loughton, a former education minister, told the Daily Telegraph.
"This was a clear Conservative manifesto commitment to deliver a clear and popular Conservative policy that rights an injustice by recognising hard-working families in the tax system."
A government source told the newspaper that "all options" were open but the most likely date for its introduction would be April 2015 - which would be weeks before the scheduled date of the next general election.
Legislation paving the way for the move would need to be approved by Parliament.
The Lib Dems have long been opposed to the idea, but the 2010 coalition agreement with the Conservatives specifically gives them the leeway to abstain on any vote in Parliament on the issue.