Army recruits must get chance to study, says Labour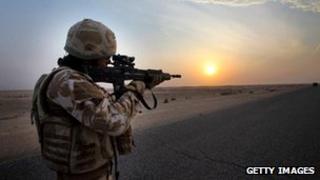 Young people who join the Army without any qualifications should be given more help to study for GCSEs so that they are more employable when they leave, Labour has said.
Shadow defence secretary Jim Murphy said personnel must be offered this chance after two years of service - rather than the current eight years.
In a speech, he argued that the armed forces had to become "smarter".
The government said military education was already "highly respected".
Nearly 4,500 Army personnel heard last week that they had been made redundant in the third and biggest round of job cuts since the 2010 defence review.
The Ministry of Defence has a long-term plan to cut the number of regular soldiers from 102,000 to 82,000, but plans to increase the number of reservists.
'Means-testing'
Mr Murphy said: "Can we really defend a system where many of those who defend our country are left without additional basic skills? This is bad for recruits, the Army and our country."
Army recruits aged 16 to 18 should be given the opportunity to gain qualifications equivalent to grades A* to C GCSE within two years, rather than eight at present, he said.
It would be particularly helpful for people who spend less than four years in military service who often re-enter civilian life with few qualifications, said a Labour source.
Under the Labour plan, young people who joined the forces would use state education facilities and more military education officers would be entered for PGCE teaching qualifications in what would be a joint initiative with the Department for Education.
The scheme would cost about £50m, which would come from within the existing Ministry of Defence budget, with money re-allocated from means-testing the so-called X Factor pay rise - the extra 0.5% on top of the 1% rise in basic pay announced this year to compensate for the rigours of military life.
The extra pay would not be available to any member of the services earning more than £70,000 a year under Labour, a source told BBC News.
'Constant training'
Mr Murphy also called for more in the military to complete apprenticeships.
Aspiring soldiers who have dropped out of education should not be blocked from joining the Army, but given the chance to go back to study after signing up, he added.
"If our forces are going to be leaner, they must be smarter," Mr Murphy said.
"Adaptable forces, with new strategic focuses, for example on cultural embedding in at-risk nations or partnering with a wider range of allies, will require new and higher skills.
"There will be a new focus on intelligence, operating high-end equipment, cultural awareness and linguistics.
"Education should be seen as a key capability with a culture of constant training and ongoing development throughout our forces."
But a Ministry of Defence spokesperson said: "We take pride in the fact that our armed forces provide challenging and constructive education and training opportunities for young people, equipping them with valuable and transferable skills.
"The services are amongst the largest training providers in the UK, with excellent completion and achievement rates, and the quality of our training and education is highly respected.
"With support for education ranging from entry-level literacy and numeracy to full postgraduate degrees, service personnel are offered genuine progression routes which allow them to develop, gain qualifications and play a fuller part in society either in the armed forces or in the civilian world."