Afghanistan: Peace talks will not weaken UK resolve says Cameron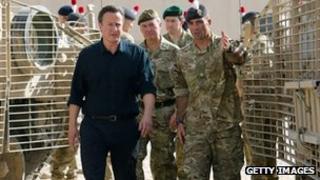 Plans for direct peace talks with the Taliban will not "weaken" the resolve of UK forces in Afghanistan in any way, David Cameron has told MPs.
In a statement to Parliament following his visit to the country, the prime minister welcomed the prospect of dialogue between the Afghan government and the Taliban.
The UK must do all it could to support an Afghan-led peace process, he said.
And he said progress in the country was a "challenge" to the Taliban.
The UK is due to withdraw all its remaining combat troops from Afghanistan by the end of 2014.
Nato forces formally transferred responsibility for security to the Afghan army last month but a spate of violent attacks, including one on the presidential palace in Kabul, cast a shadow over the handover.
'Political path'
Mr Cameron met British troops and held talks with President Hamid Karzai over the weekend.
Updating MPs on his trip, Mr Cameron said British troop numbers would fall from the 7,900 there at the moment to 5,200 by the end of 2013 and a "lot of work" was currently being done to return equipment to the UK.
He cited the growth in the size and capability of Afghan forces, the wider availability of healthcare, the increasing number of children in school and the increase in voters registering for future elections as evidence of broad-based progress.
"This progress is a challenge to the Taliban," he said, since it showed that the "way for a role in Afghanistan's future is not through terror and violence but only through engaging in a political progress".
The prime minister said the onus was now on the Taliban - a hardline Islamic movement that was forced from power in Afghanistan after the US-led invasion in 2001 - to engage meaningfully in a political process.
"I welcome plans to begin direct talks with the Taliban," he added.
"The peace process must be Afghan-led but we should do all we can to support it. It does not signal any weakening of our security response but if we can persuade people that there is a legitimate political path for them to follow, we should do so."
The US has agreed to talks in Qatar where the Taliban has a new office, but the Afghan government has said it will only take part if the process is run by Afghans and not "foreign powers".