Parliament 'must assert privilege powers'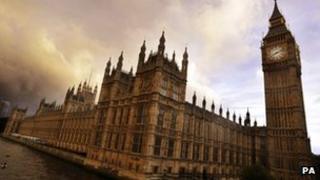 Parliament must do more to clarify its powers to summon witnesses and demand evidence, say MPs and peers.
There have been doubts about whether committees can make witnesses attend or punish them for misleading evidence.
The joint committee warned a crisis was coming, in which "witnesses will be tempted to test those powers".
It rejected creating new criminal offences but said Parliament should do more to assert its powers and ensure its procedures for using them are fair.
In a wide-ranging report, the joint committee examined the issue of parliamentary privilege - the range of freedoms and protections afforded to MPs and peers to allow Parliament to function effectively.
Institutional reluctance
In theory, Parliament can summon witnesses to appear before select committees.
But questions were raised over the powers in 2011 when US Kraft chief executive Irene Rosenfeld refused an invitation to appear before the Business select committee and other officials attended in her place.
And there were initial doubts over whether News Corporation boss Rupert Murdoch and his son James, as US citizens, could be compelled to attend a hearing on the phone hacking scandal, although both did after being summonsed by the culture committee.
Wednesday's report says the main obstacles to the Commons imposing its will is "institutional reluctance" and fear of a successful legal challenge - the European Court of Human Rights has asserted its jurisdiction over national parliaments' privileges.
The committee, chaired by Lord Brabazon of Tara, was warned that if MPs tried to penalise someone for contempt of Parliament - it would engage Article 6 of the European Convention on Human Rights, which guarantees the right to a fair trial.
The committee was told that the House would have to "significantly change its current procedures and practices" if it was to meet the requirements under Article 6.
In the US, Congress relies on legal authorities and the courts to enforce their powers to subpoena, while in Australia there is a criminal offence of contempt of either House - which can impose fines or imprisonment.
Radical shift
But the committee said making specific offences crimes - like failing to appear before a select committee or failing to produce documents - would bring about "a radical shift of power between Parliament and the courts" - as courts would have to look at whether a crime had been committed and the fairness of proceedings.
However, it said, doing nothing was not an option: "While committees have been able to function effectively up until now, the growing, and increasingly public doubt over each House's penal powers means there is a real risk that potential witnesses will be tempted to test those powers.
"The two Houses must be prepared for that eventuality. It will be too late to consider these matters when a crisis arrives."
Instead, the report says the Houses of Parliament should "rise to the challenge" and assert their powers by ensuring that processes are fair, to meet the requirements of the European Court of Human Rights and to "comply with modern expectations of fairness and due process".
It says the Commons and Lords should set out formally the sort of behaviour likely to be considered contempt and let anyone attending a select committee meeting know about them.
People should be given a chance to put their case and ask for matters to be dealt with privately, it adds.
If witnesses were to face a stronger penalty than "admonishment by resolution" it would be appropriate to let them or their legal advisers put questions to any other witnesses, the report says.