Advisers paid £73,000 to prepare NHS bosses for committee grilling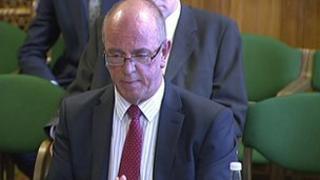 The taxpayer has been left with a £73,000 bill to prepare the chief executive of the NHS in England and other civil servants to face scrutiny by a committee of MPs, it has emerged.
Sir David Nicholson appeared before the Public Accounts Committee last month.
Conservative MP Stephen Barclay, a member of the committee, said the cost was "unbelievable" and the officials "should not need coaching" to appear.
The Department of Health said it "would not happen again".
When he asked about the matter at last month's hearing, Mr Barclay was told outside contractors were hired to help officials prepare for their appearance but a figure for the cost could not be provided.
Now, in a letter to Mr Barclay, Stephen Mitchell - the head of Accountability and Regulation at the Department of Health - has said a consultancy was hired for a total of 52 and a half days, at a cost of £73,563.
'Unbelievable'
Mr Barclay said what he had discovered was part of a "wider cover-up culture in the public sector".
"It's unbelievable that the Department of Health has spent more than £73,000 on external consultants to prepare for a single hearing before the Public Accounts Committee.
"Civil servants come to the committee to show that public spending is value for money and should not need coaching to answer questions about the work they do. This is part of a wider cover-up culture in the public sector, which focuses too much on PR rather than delivering high quality services."
Mr Barclay added: "The performance of the three witnesses at the hearing on the NHS programme for IT was woeful, just like the project itself. Perhaps they should ask for their money back."
A spokeswoman for the Department of Health said: "This is absolutely not departmental policy. It will not happen again."
Sir David has faced calls to stand down following the damning report earlier this year into the failures at Stafford Hospital in 2008. He has said that he will be retiring in March.