English MPs 'could get veto on laws' under government plans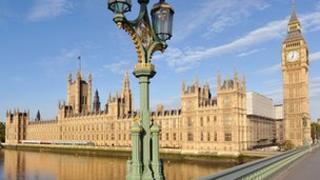 Ministers are reported to be considering giving MPs from English constituencies a "veto" on legislation applying only to England.
According to the Independent newspaper, English MPs could be given new powers to scrutinise and amend proposed laws on health, education and transport.
Scottish and Welsh MPs can determine laws affecting England but English MPs have no say on devolved matters.
The government said it was studying the issue "very carefully".
The newspaper suggested David Cameron and Nick Clegg were broadly signed up to the idea of giving English MPs more say over the making of laws affecting England and that plans could be brought forward this autumn.
One idea mooted is that legislation could be subject to an extra process of scrutiny by England-only MPs in the House of Commons.
Only English MPs would be able to vote in this "fourth reading" stage, the paper reported, who could suggest changes and send proposals back for further consideration by the Commons as a whole.
MPs from English constituencies have an overwhelming majority in the House of Commons. At the moment, of the 650 MPs, 533 represent English constituencies - while there are 59, 40 and 18 from Scotland, Wales and Northern Ireland respectively.
But critics say successive governments have failed to deal with the so-called "West Lothian question" - whereby Scottish MPs can still vote on legislation primarily affecting England while English MPs have no input into devolved matters.
The three largest Westminster parties have rejected calls for an English Parliament, instead focusing on devolving greater powers to local government as well as considering further devolution in Scotland and Wales.
'Deadlock'
In 2008, the Conservatives floated proposals for key stages of legislative scrutiny of bills affecting England to be restricted to English MPs to increase accountability and "address problems of unfairness".
A taskforce set up by the government to look at the issue earlier this year warned that limiting the issues that non-English MPs could vote on risked creating "different classes" of MPs and leading to "deadlock" between a future government and English MPs.
But the McKay Commission backed the principle that UK-wide legislation with a "distinct" impact on England should have the consent of a majority of English representatives and English MPs should have "new and additional ways to assert their interests".
These, it suggested, could include greater consideration in the drafting of bills to their impact in England and the setting up of a new committee with a majority of English MPs to shape legislation.
The government has yet to respond to the commission's recommendations and Cabinet Office Minister Francis Maude told the BBC that he could not comment on the reports.
He added: "We had a commission looking at what is known as the West Lothian question. It is an issue that has caused concern since the devolved settlements emerged. Sir William McKay has led a commission on this. It will be studied very carefully."
A No 10 spokesman said the government "will provide a substantive response in due course".
'Half-baked'
A Lib Dem source suggested the Conservatives were more "in a hurry" to introduce changes because of their greater number of English MPs and the implications for the House of Commons and the House of Lords must be carefully considered.
"I think it is very unlikely there could be any end solution before the outcome of the Scottish referendum [in 2014]," he added. "I think it is clear that if the Scots vote for independence, the whole of the McKay Commission falls apart."
Plaid Cymru MP Jonathan Edwards said the plans were "half-baked" and could lead to "four tiers of MPs".
"As a rule Plaid Cymru MPs do not vote on England-only matters, therefore in principle we support intentions to provide a fourth and final reading to each bill which applies to England only matters in which only English MPs will be allowed to vote," he said.
"However, Plaid Cymru MPs do vote on English-only laws if there is likely to be an impact on the Barnett formula which decides the funding allocations of the Welsh government."
"English-only votes have to go hand in hand with reform of the Barnett formula, otherwise Welsh MPs would lose their ability to influence the funding allocation of devolved services.
"Under the current asymmetrical system English votes would lead to four tiers of MPs, leading to complete confusion on who can vote during the proposed fourth readings - leading to a certain constitutional crisis."