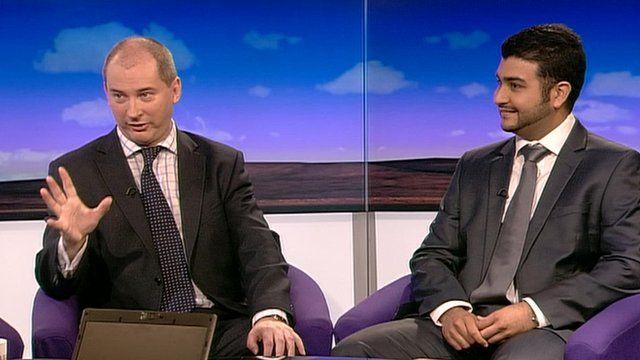 Electronic cigarette controls: Stephen Williams and Amish Badiani
11 July 2013 Last updated at 15:07 BST
The EU is trying to regulate the sale of electronic cigarettes - used by some as an aid to quitting smoking - by classifying them as medicines.
The use of them, including by Daily Politics guest Laurie Penny on-air, can lead to complaints from others who think people are smoking traditional cigarettes, and so breaking the law.
Liberal Demcorat MP Stephen Williams, chair of the all-party parliamentary group on smoking and health, and Amish Badiani, a director of a small business selling electronic cigarettes, debated their use and the potential new rules on their use.
MORE FROM THE DAILY & SUNDAY POLITICS
Watch more clips of films and interviews from 2013; Watch Sunday Interviews with Andrew Neil; Watch our soapbox films; Watch full programmes from the last seven days via BBC iPlayer; Social networks: 'like' us on Facebook page or 'follow' us on Twitter