Road-building changes 'to save £600m a year'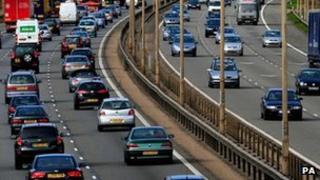 The government has said it can save taxpayers £600m a year by modernising the way the building and repair of major roads and motorways are handled.
Transport Secretary Patrick McLoughlin announced the Highways Agency would be given greater flexibility to choose contractors for large projects.
He also said a "motorists' champion" would scrutinise the work of the organisation to ensure efficiency.
The moves would be underpinned by new laws, Mr McLoughlin said.
A £28bn roads package was first announced in Chancellor George Osborne's Spending Review last month, as part of the government's efforts to return the economy to sustained growth.
Mr Osborne also gave details of plans to turn the Highways Agency, which is responsible for England's motorways and major roads, into a publicly owned company with guaranteed long-term funding.
'Severe strain'
The latest announcement comes in a government command paper entitled Action for Roads, which states that the proposed legislation is likely to be brought forward next year, after consultation.
Mr McLoughlin promised £500m by 2020 to encourage the purchase and use of ultra-low-emission vehicles.
In a statement, he said: "Transport is an engine for growth and our major roads are vital to the prosperity of our nation, connecting people to jobs and businesses to markets.
"However, our roads have suffered from a lack of investment in recent decades, and we face rising traffic in the years to come. Without action, this will place severe strain on networks that are already under pressure, worsening the experience of motorists and damaging Britain's ability to compete."
Mr McLoughlin promised that, under the altered Highways Agency, there would be "mechanisms for funding certainty and flexibility, to allow greater efficiency and to give suppliers the assurance they need to begin training new workers for delivering our future programme".
'Confidence'
The road investment strategy would be "clear" and "long-term", while the agency would get more power to "operate with greater commercial freedom, deliver with certainty and cut costs", he said.
And the motorists' champion would hold the newly formed company to account and ensure better value for money, the transport secretary said.
He added: "I expect these reforms to generate additional savings to the taxpayer of £600m, whilst ending decades of underinvestment and uncertainty in our road network.
"And it will give the construction and maintenance industry the confidence they need to recruit and train skilled workers to deliver this increase in transport projects over the coming years."
RAC Foundation director Prof Stephen Glaiste said: "We languish at number 24 in a global list of countries with the best road networks, so creating a long-term funding settlement for the Highways Agency, enshrined in law, will go some way to moving us up the rankings."
AA president Edmund King said there was "overwhelming support " for more investment in roads and AA members were confident the plans would "be delivered".