Spending Review should cover five years, say MPs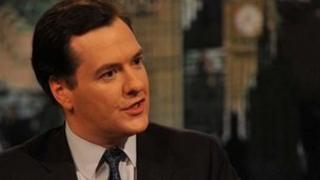 Departmental spending plans should be set out on a five-year basis, MPs say.
Now the UK has moved to fixed-term Parliaments, Spending Reviews should reflect the same timetable, they said.
Past Spending Reviews have spanned three or four years, but this year's covered 2015-16 only - election year.
The Political and Constitutional Reform Committee said that without a "clear indication of spending plans, short-termism in delivery and policy formulation is bound to prevail".
This year's mini-Spending Review was unusual in that it spanned only one year - allowing the government to continue paying the bills in the weeks before the May 2015 general election, without committing either coalition party to longer term spending plans beyond it.
'Early days'
Spending Reviews were introduced in 1998 when Gordon Brown was chancellor and set out rolling plans for three years ahead - although he was criticised by the Conservatives for not holding one in the immediate aftermath of the financial crash.
Mr Osborne's first Spending Review was held in October 2010 and set out plans for the next four years that aimed to eliminate the structural deficit by the time of the next election. However he had to announce a further £11.5bn in cuts for 2015-16 due to slow growth and low tax revenues.
The coalition's move to five-year fixed-term Parliaments was praised by the Political and Constitutional Reform Committee, which said while it was "early days", the greater certainty about the date of the next general election would allow better strategic, financial and legislative planning by departments.
While many departments agreed that the Spending Review had "increased clarity and allowed more effective planning", the Department for Education had suggested aligning the Spending Review even more closely with the fixed-term Parliaments, to avoid the need for another mini-Spending Review.
'Perfectly understandable'
Government expert Peter Riddell, director of the Institute of Government, said that a single-party government was more likely to have a Spending Review which continued two or three years into the next Parliament.
"It is perfectly and absolutely understandable why it is only one year because of the politics of it," he said.
But the committee agreed with the Department for Education. In its report, it called on the government to produce a rolling five-year Spending Review, so that "departments can plan as effectively as possible".
Chairman Graham Allen said it was important that departments maximise the benefits of the switch to fixed terms, "and it seems the logical next step is to tie the financial planning that underpins policy to the fixed term".
"Uncertainty over term lengths and electoral dates can create damaging and distracting political speculation, in the same way as rumours of a Cabinet reshuffle can.
"We want our politicians - and civil servants - focused on planning and delivery of good policy.
"Creating as much certainty and stability as possible must help with that.
"We appreciate that the impact of fixed terms is currently difficult to separate from the impact of coalition government.
"There may be further benefits to fixed terms under a single-party government.
"However, there is still scope to monitor, evaluate and embed best practice into the departmental planning processes."
In the past, the prime minister of the day was able to choose when to call a general election, often selecting the date that gave his party the best chance of victory.
In the past 30 years, elections have been held on either four-year or five-year cycles, but in 2011, Parliament passed a law fixing the date of future elections every five years, starting on 7 May 2015.