MPs announce tobacco smuggling inquiry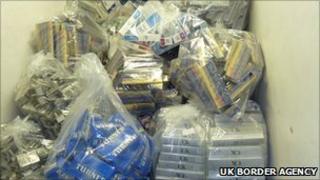 MPs have launched an inquiry into the trade in smuggled tobacco.
The Home Affairs Committee will look at the scale of the problem in the UK and what can be done to tackle it.
Chairman, Labour MP Keith Vaz, said the UK had one of the highest rates of tobacco duty in the EU, making it a lucrative market for smugglers.
He said duty was evaded on nearly one cigarette in 10 and more than a third of all hand-rolling tobacco, costing the taxpayer nearly £2bn a year.
The committee will consider why arrests and convictions for tobacco smuggling have fallen in recent years, and why the UK Border Force failed to meet its operational targets for seizing illegal tobacco in 2012-13.
The committee's remit will also cover:
whether the current sanctions and penalties for tobacco smuggling are appropriate
similarities and differences in tobacco smuggling patterns in the UK and Ireland
the implications of restrictions on the National Crime Agency that prevent it from carrying out police operations or recruiting agents in Northern Ireland
the relationship between tobacco smuggling, organised crime and paramilitary activity
Mr Vaz said: "Tobacco smuggling is a significant threat to UK tax revenues and to public health."
Revenue & Customs has said it is committed to tackling tobacco smuggling and has invested an extra £25m from 2010 to 2015.
The Home Affairs Committee is inviting written evidence to be submitted no later than 12:00 BST on 29 August 2013.