Nick Clegg claims credit for economic 'dawn breaking'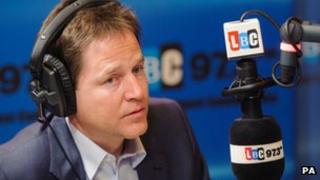 The economy would not be recovering had it not been for the Liberal Democrats, Nick Clegg has claimed.
An economic "dawn appears to be breaking", the deputy prime minister told LBC radio.
He echoed other cabinet members as he warned against complacency, but said things were "moving in the right direction" because of the party's decision to go into coalition.
Mr Clegg said he wanted to showcase the achievement at his party conference.
The Lib Dems meet next week in Glasgow for their annual autumn gathering.
He said going into the conference he was "very proud" of sticking with the coalition and helping to "pilot the economy through its darkest hour".
"A dawn appears to be breaking," he went on. "You shouldn't be complacent but it is moving in the right direction and I don't think that would've happened if we hadn't been there."
Not about personality
Vince Cable, the Lib Dem business secretary, warned earlier this week the government still had more to do to secure a recovery.
His intervention came after the chancellor said the UK was "turning a corner" and had won the argument with Labour over austerity.
Mr Clegg is due to address activists in Glasgow on Monday as he seeks their backing for a motion praising the government's economic record and attacking "Labour's mismanagement".
But asked on LBC if he could do a deal after the next election with Ed Miliband, he said would not have a problem working with either party in a future coalition.
"It's really very little to do with personal preferences - whether you like this person or that person, or you like this party or that party.
"You've got to follow the instruction manual handed to you by the British people."
He said he told Gordon Brown after the 2010 election their parties could not go into coalition "even if we want one".
"There was no numerical majority for the Liberal Democrats and Labour," he added.
'Look adoringly'
Asked about his set-piece conference speech next Wednesday, Mr Clegg told the London radio station he had not yet convinced his wife Miriam to join him on stage.
It has become a conference staple in recent years for Labour and Conservative leaders to pose with their wives following their speeches.
"I have not succeeded yet in persuading Miriam to march up and look adoringly at me," he said.
However, he added that he would, as always, leave the platform "to look adoringly" at her after his speech.
And following another trend started by the prime minister earlier this week, the Lib Dem leader revealed he also started wearing reading glasses "some months ago".