Cameron has lost control of government - Ed Miliband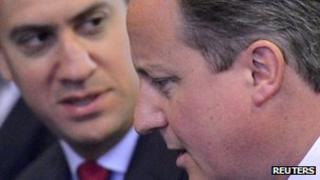 David Cameron has "lost control" of his government amid differences between Conservatives and Liberal Democrats on energy policy, Labour leader Ed Miliband has claimed.
The Tory prime minister has promised to review green taxes in an effort to cut gas and electricity bills.
But the Lib Dems said the announcement represented a "panicky U-turn".
In a speech, Mr Miliband accused the PM of "weakness" and offering no solution to rising household costs.
But Downing Street said the prime minister's green taxes review would help consumers.
Three of the "big six" energy firms have announced price rises of between 8% and 10% in recent weeks.
'Made up policy'
Mr Cameron has come under pressure to act, with Mr Miliband pledging to freeze tariffs for 20 months if his party wins the next general election.
On Tuesday, his Conservative predecessor as prime minister, Sir John Major, called for a windfall tax on excess profits made by the largest suppliers.
In a speech in London, Mr Miliband said: "Yesterday was the day David Cameron lost control of his government. In weakness and panic, he made up a policy on energy which means business as usual for the energy companies and which is already falling apart.
"There is no solution to the cost of living crisis which tiptoes around taking on the energy companies and reforming a broken market.
"But this prime minister is too weak to stand up for the consumer and he always takes the side of the big six companies."
Mr Miliband said 27 million households and 2.4 million families would benefit from Labour's promised price freeze.
He added: "Sir John Major recognises that the job of government is to reform markets when they are failing and to protect people. This prime minister does not."
Mr Miliband also said: "Governments have always looked at this balance but this government wants you to pick up the tab for its failure to stand up to the energy companies.
"That won't offer the real help that business and families need. They propose a panicked wheeze paid for by taxpayers. We offer a real freeze paid for by the big energy companies."
But Mr Cameron argues that a price freeze would not work. At Prime Minister's Questions on Wednesday, he accused his rival of "acting like a con man".
He said gas and electricity bills were at "unacceptable levels" and green taxes were contributing £112 a year to the average annual dual fuel bill.
But Mr Cameron added: "I want more companies. I want better regulation. I want better deals for consumers. But yes, we also need to roll back the green charges that [Mr Miliband] put in place as energy secretary."
Lib Dem Energy Secretary Ed Davey is due to set out details of the competition review next week.
But his party, governing in coalition with the Conservatives, wants to keep green taxes, arguing that they are essential to creating a sustainable and environmentally friendly energy supply for the UK.
A senior Lib Dem source told the BBC: "Everybody knows the Tories are getting cold feet on the environment. The Tories have put no properly worked-up policies in front of us.
"But we will not allow a panicky U-turn during PMQs to dictate government policy. The way to provide stable fuel bills now and in the future is not to make policy up on the hoof."
According to government figures, environmental obligations account for 9% of the average £1,267 dual fuel bill, of which carbon taxes make up 2%. The cost of buying energy on wholesale markets makes up the largest proportion, at 47%.
Energy firms say profits account for about 5% of an average bill.
Angela Knight, chief executive of the power industry group Energy UK, told BBC Breakfast it was not aware in advance that Mr Cameron was going to announce a review of green taxes.
She said: "Statements are made by politicians in the House of Commons and that's absolutely fine but I think it is very much in the interests of everyone that we can get into the details and decide exactly how we are going to proceed with some of these additional costs."
While it was not yet clear what exactly the government was going to look at cutting, she said "there are some costs which if they are relieved off the bill then yes it will make a very decent and good difference to households and it will do it quickly".